Posted August 6th at 12:00am.
Madden NFL 15 Player Ratings continue with a division-by-division look at team and player ratings. We conclude with the AFC West and NFC West.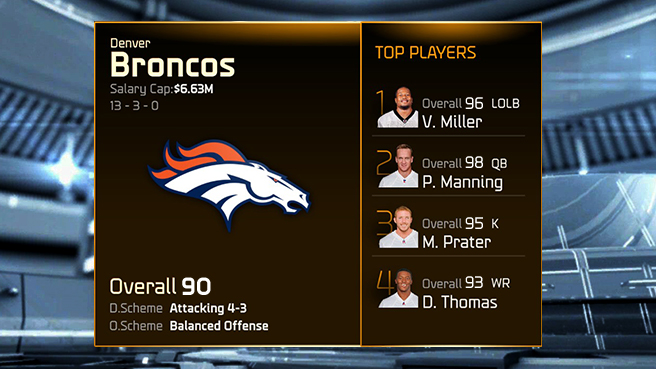 DENVER BRONCOS
How can the Broncos possibly improve an offense that shattered records in 2013? Five-time MVP is back as the top-rated quarterack in Madden 15. Despite the loss of Eric Decker in free agency, the Broncos still have an embarrasment of pass-catching riches in DeMaryius Thomas, Wes Welker, Julius Thomas and newly acquired Emmanuel Sanders. On the ground, the Broncos must get improvements from Montee Ball and Ronnie Hillman to account for the loss of Knowshon Moreno.
After being shredded by Russell Wilson and Co. in Super Bowl XLVIII, the Broncos addressed the defensive side of the ball by bringing in veterans DeMarcus Ware (90 OVR) and Aqib Talib (90 OVR) to help shore up the pass rush and secondary respectively. In the trenches, defensive tackle Terrance Knighton (88 OVR) was dominant in Denver's run to the AFC Championship.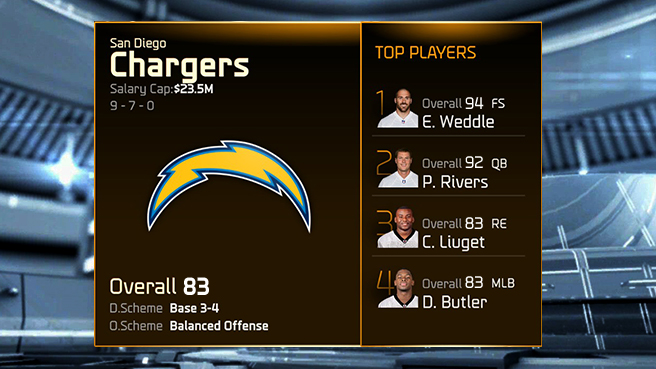 SAN DIEGO CHARGERS
After a few down seasons, Philip Rivers returned to his previous form under new head coach Mike McCoy. The 92 OVR Rivers has a couple of bigtime targets in second-year wideout Keenan Allen (87 OVR) and future Hall of Famer Antonio Gates (86 OVR). Keep an eye on third-year tight end Ladarius Green, whose role began to expand late in 2013. On the ground, the Bolts have some of the league's best running back depth in Danny Woodhead (85 OVR) Ryan Mathews (84 OVR), and free agent pickup Donald Brown (80 OVR).
After finishing 29th in passing defense last year, San Diego addressed its secondary with its first-round selection, nabbing Jason Verrett out of TCU. They didn't stop there, signing former Kansas City Chief Brandon Flowers as well. The new faces in the Chargers' secondary join 94 OVR safety Eric Weddle, who has grown into a star. The Chargers hope a healthy Dwight Freeney can help improve a pass rush that mustered just 35 sacks last season.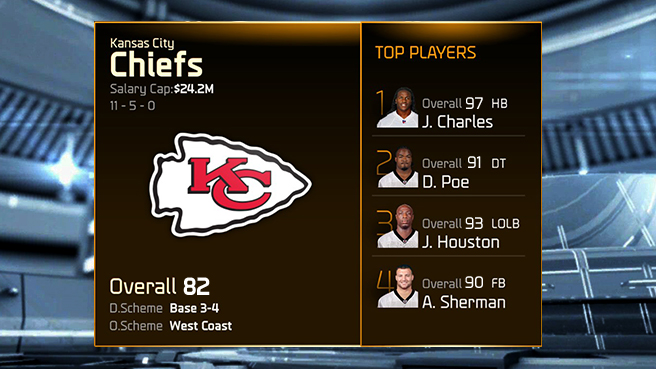 KANSAS CITY CHIEFS
Buoyed by a 9-0 start and stability at head coach and quarterback, the Chiefs were one of the season's biggest "surprises" en route to an 11-win season. Kansas City's attack begins with 97 OVR Jamaal Charles, who is a home run threat every time he touches the ball. The Chiefs' passing game is often risk-averse, but still solid behind 89 OVR quarterback Alex Smith and 87 OVR Dwayne Bowe.
The Chiefs' pass rush is, in a word, relentless. With Justin Houston (93 OVR) and Tamba Hali (92 OVR) providing pressure off the edge, the Chiefs made life very tough for opposing quarterbacks. Equally important was the play of MLB Derrick Johnson (91 OVR) and emergence of defensive tackle Dontari Poe (87 OVR). In the secondary, Eric Berry is one of the best in the business.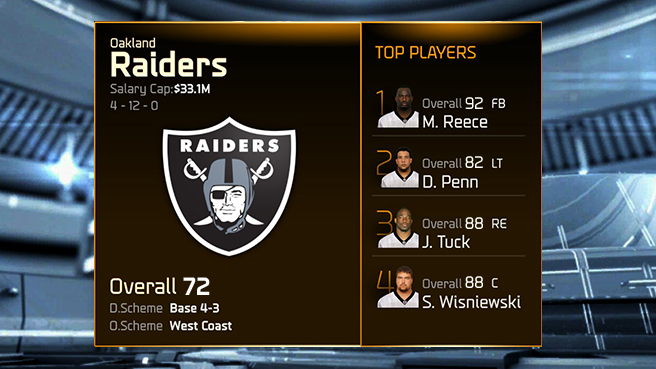 OAKLAND RAIDERS
Another year, another starting quarterback in Oakland. Matt Schaub brings some playoff experience from Houston to the East Bay, where he'll be asked to bring some stability to the position.Oakland could potentially have one of the AFC's better backfields in free agent signee Maurice Jones-Drew (86 OVR) and fullback Marcel Reece (92 OVR).. Schaub's top option in the passing game will likely be James Jones (84 OVR), who comes over from Green Bay after productive seasons alongside Aaron Rodgers.
Defensively, the Raiders shored up their front seven by nabbing a pair of solid defensive linemen in Justin Tuck (88 OVR) and Antonio Smith (87 OVR). Oakland's secondary will be strengthened by the return of safety Tyvon Branch (88 OVR), who missed most of last season with a broken leg. Veteran Charles Woodson (86 OVR) is getting up there in age, but still among the game's best.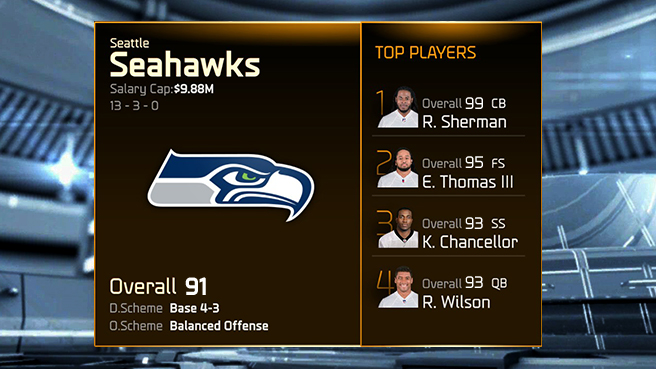 SEATTLE SEAHAWKS
The defending Super Bowl champions are led by quarterback Russell Wilson, who emerges into a top-five quarterback in Madden 15. On the ground, the Seahawks will continue to ride Beast Mode. Marshawn Lynch boasts a 95 OVR rating, including beastly Trucking (99) and Stiff Arm (99) ratings. Percy Harvin's (90 OVR) cameo in the Super Bowl showed just how great he can be when healthy.
Where to start on defense? Is it with defensive linemen Brandon Mebane (91 OVR) and Michael Bennett (89 OVR)? Is it the linebacking corps that include Bobby Wagner (88 OVR) and Super BOwl MVP Malcolm Smith (80 OVR)? Nope. It's the Legion of Boom. The Seahawks' secondary consists of arguably the game's best cornerback (99 OVR Richard Sherman, free safety (95 OVR Earl Thomas III). and strong safety (93 OVR Kam Chancellor).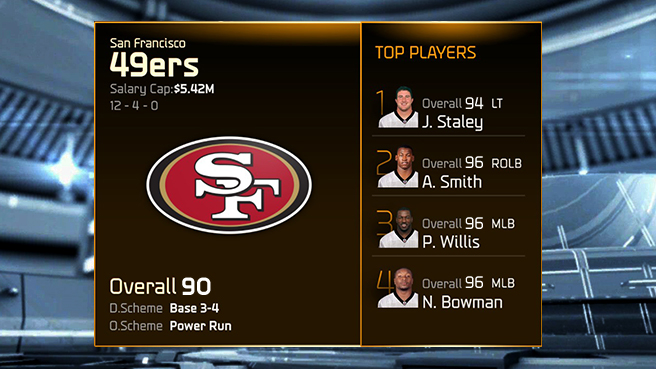 SAN FRANCISCO 49ERS
The 49ers came within a few inches of a second consecutive NFC Championship, and should be in the mix again. Quarterack Colin Kaepernick (89 OVR, 88 SPD) is one of the best weapons in all of Madden. He's supported by a strong running game led by the ageless Frank Gore (90 OVR) and steamrolling offensive linemen Joe Staley (94 OVR) and Mike Iupati (93 OVR). A full year of Vernon Davis (94 OVR), Anquan Boldin (90 OVR), Michael Crabtree (89 OVR) on the field together should help Kaepernick immensely.
Much like Seattle's secondary, San Francisco's linebacking corps is the clear-cut best in the league. Pass-rushing extraordinaire Aldon Smith (96 OVR) and the NFL's two best inside linebackers - 96 OVRs Navorro Bowman and Patrick Willis - are the envy of the entire league. However, credit has to be paid to defensive lineman Justin Smith, whose dirty work allows the Smith/Bowman/Willis trio to wreak havoc all over the field.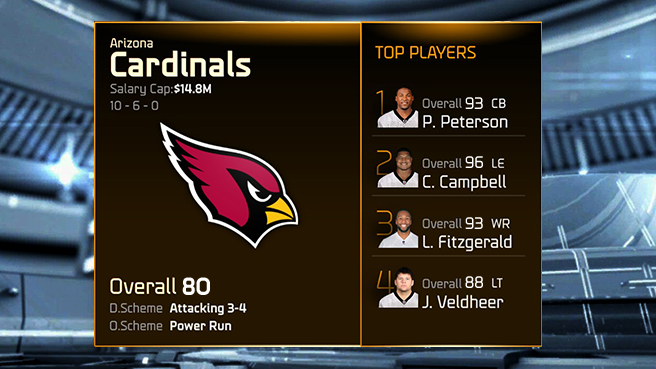 ARIZONA CARDINALS
At 10-6, the Cardinals had a better record than two of the NFC's division winners. However, it wasn't enough to secure a postseason berth. Arizona's offense is led by wide receiver Larry Fitzgerald, who checks in at a 93 OVR. They also made a nice pickup in the form of left tackle Jared Veldheer (88 OVR), who should help pave the way for RB starter-to-be Andre Ellington (80 OVR). After shuffling through quarterbacks in the aftermath of Kurt Warner's retirement, the Cardinals got some solid play from 83 OVR Carson Palmer, who returns for a second year in the
Defense wins in the NFC West, and the Cardinals are no exception. While Seattle (secondary), San Francisco (linebackers) and St. Louis (defensive line) are known for one dominant unit of their defense, Arizona's quality is spread throughout. Calais Campbell is among the league's elite at 96 OVR, while Daryl Washington (88 OVR) and John Abraham (85 OVR) are a solid linebacking duo. In the secondary, few cornerback duos can hang with Patrick Peterson (93 OVR) and new Cardinal Antonio Cromartie (87 OVR)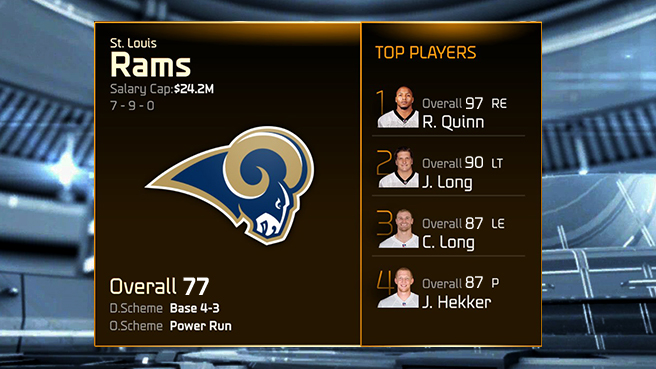 ST. LOUIS RAMS
Someone has to finish last, and it seems unfair that it has to be a tough Rams team. Quarterback Sam Bradford (85 OVR) is always a question mark when it comes to health, and this is a big year for him as he enters the second-to-last year of his pricy rookie contract. Second-year running back Zac Stacy was a big surprise as a rookie, rushing for nearly 1,000 yards after being selected in the fifth round. At wideout, Tavon Austin (77 OVR) is hoping to build on an uneven rookie season.
It's never fun to play the Rams, and their defensive line is a huge reason why. Robert Quinn is one of the best pass-rushers in football, and totaled a whopping 19 sacks in 2013. His opposite, Chris Long, is no slouch either at 87 OVR. James Laurinaitis (81 OVR) and Alec Ogletree (79 OVR) helped the Rams finish with the ninth-best rush defense a season ago.
Click here for a full breakdown of all player ratings from the AFC West and NFC West.