Posted August 5th at 12:00am.
Madden NFL 15 Player Ratings continue with a division-by-division look at team and player ratings. Next up: the AFC East and NFC East.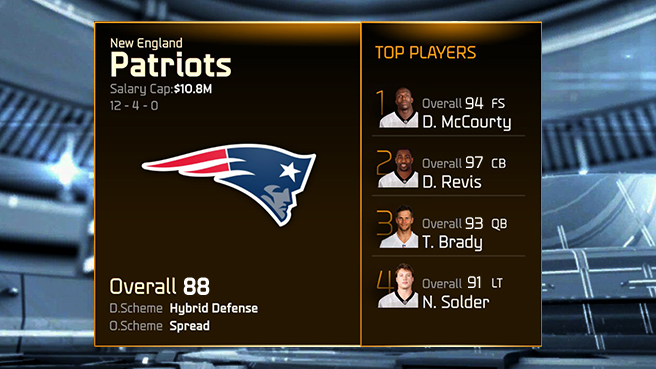 NEW ENGLAND PATRIOTS
You know what you're getting when you select the Patriots in Madden. Tom Brady is an elite quarterback, Gronk is an elite tight end, and the Edelman/Amendola duo is reliable. The question on offense remains at RB. Stevan Ridley has been riddled with fumbles, and Shane Vereen is unproven as a starter. Rookie James White is opening eyes in camp and might be a pleasant surprise as the season progresses.
On defense, Vince Wilfork is still a monster at DT and should teach rookie Dominique Easley a thing or two. Jerod Mayo and Don't'a Hightower are solid linebackers. The greatest improvement Patriots fans will see this season is in their secondary. Darrelle Revis and Brandon Browner are huge pickups that allow you to leave them on islands and send an array of blitzes.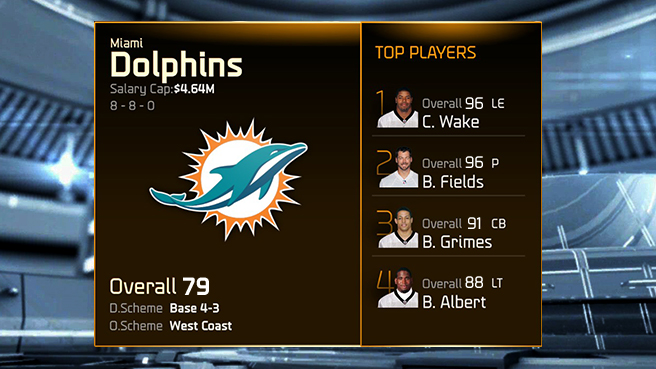 MIAMI DOLPHINS
The Dolphins are an interesting team this year. Ryan Tannehill needs to prove himself, and has some weapons in Mike Wallace, Brian Hartline and Charles Clay. At running back, Lamar Miller needs a big year as well. The Dolphins added the versatile Knowshon Moreno to help out in all phases.
On defense, the Fins have some strong pursuit coming off the edge with ends Cameron Wake and Oliver Vernon, along with OLB's Dannell Ellerbe and Philip Wheeler. Brent Grimes and Reshad Jones get some help in the secondary with the physical Cortland Finnegan coming aboard.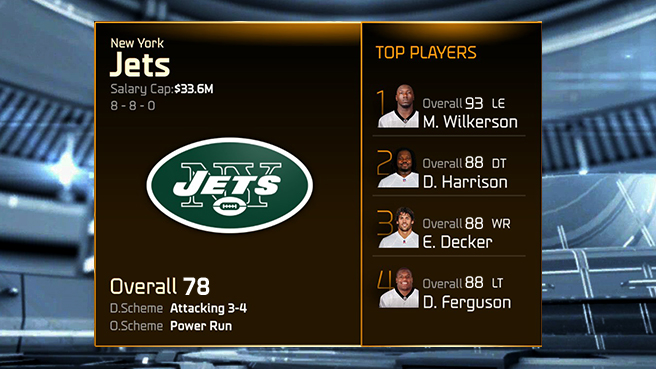 NEW YORK JETS
J-E-T-S, Jets, Jets, Jets! Any team with Michael Vick as a quarterback option and Chris Johnson at running back is an automatic contender in Madden. The issue here is that newly acquired Eric Decker is your only proven wide receiver. Jacoby Ford could be exciting but is currently buried in the depth chart.
On defense, Muhammad Wilkerson and Calvin Pace are pass-rushing threats. The Jets secondary should be solid this year assuming rookie Calvin Pryor can contribute right away.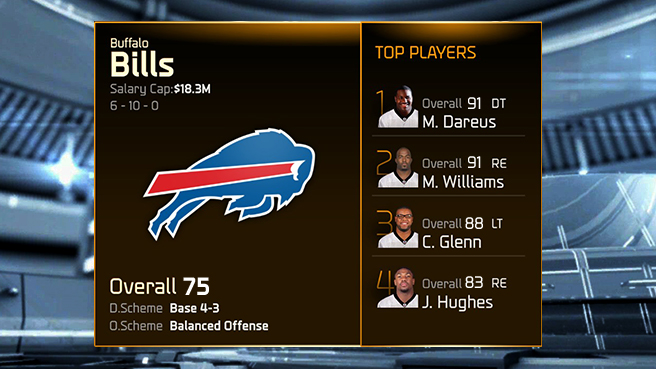 BUFFALO BILLS
Here's something you don't hear very often – The Bills are a very exciting team to play with in Madden! Their offense is full of weapons, but their profess will come down to the continued development of second-year quarterack EJ Manuel. Sammy Watkins is the type of playmaking WR anybody would want on their Madden squad, and Robert Woods is full of potential at the other wideout. The Buffalo backfield could be the deepest in the league in CJ Spiller, Fred Jackson and Bryce Brown.
On defense, you have a strong front line with Mario Williams, Marcell Dareus and Kyle Williams. Brandon Spikes looks to have a breakout season at MLB.
PHILADELPHIA EAGLES
With Chip Kelly at the helm for his second year, the Eagles look to improve on last year's 10-6 record and NFC East title. The Eagles lost deep threat and special teams weapon Desean Jackson to the division rival Redskins, but did add Darren Sproles. Combined with the 97 OVR Lesean McCoy, Sproles will be a nice addition to the high-octane Kelly offense. Quarterback Nick Foles is coming off a stellar 2013 season, and will look to wide receivers Jeremy Maclin and Riley Cooper in the passing game.
On the defensive side, the Eagles are reliant on veteran linebacker Trent Cole, who will be a monster with the new Madden NFL 15 defensive line mechanics with his 97 Finesse Move (FMV) rating. The Eagles also have 3 CBs with an 80+ OVR.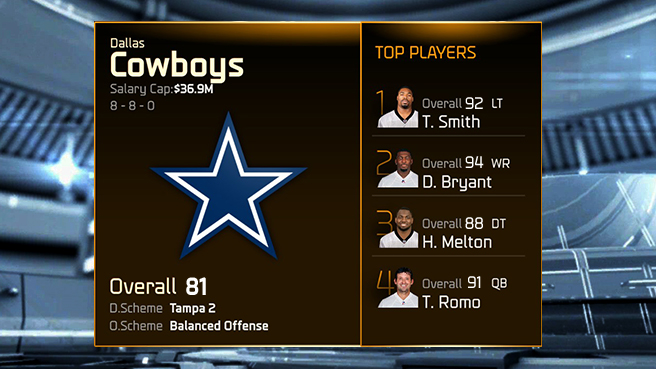 DALLAS COWBOYS
Despite not having a winning record since the 2009 season, the Dallas Cowboys are still one of the most popular teams in both the NFL and Madden. The 'Boys will look to 11th-year quarterback Tony Romo for some veteran leadership. Romo has the help of top targets Dez Bryant and Jason Witten, as well as the rest of the Cowboys' young receiving corp. Don't forget about fourth-year RB Demarco Murray, who is the best option out of the Cowboys' backfield.
On defense, the Cowboys head into the 2014 season with a new look, following the departure of Demarcus Ware. You're going to want to make use of veterans Anthony Spencer and Henry Melton on the defensive line, as well as rookie prospect Demarcus Lawrence.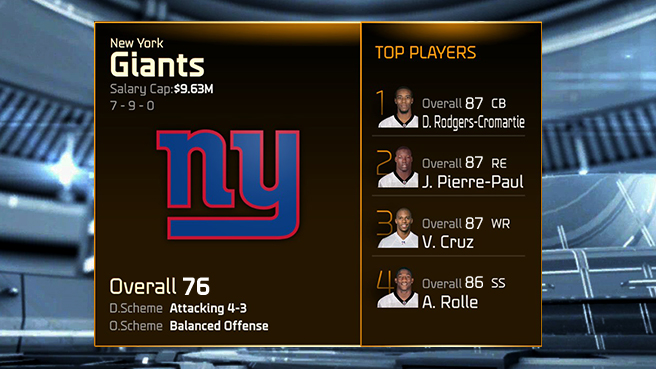 NEW YORK GIANTS
Eli Manning hopes to bounce back from a disastrous 2013 season that saw him throw a league-high 27 INTs. Doing so will be dependent on how the rest of his offense comes together, as well as the health of the Giants running backs (including Madden NFL 12 cover athlete Peyton Hillis!) The key to the Giants offense in Madden 15 is getting the ball to Victor Cruz, who remains the top-rated offensive player on the team at an 87 OVR.
On defense, the Giants look a lot stronger with a couple of hyphenated names leading the pack. DE Jason Pierre-Paul and newly signed CB Dominique Rodgers-Cromartie (who clocks a nasty 98 SPD) lead the New York defense with 87 OVR ratings. SS Anrel Rolle and CB Prince Amukamara are also noteworthy players in the Giants secondary, making the them a sleeper defense for #MaddenSeason.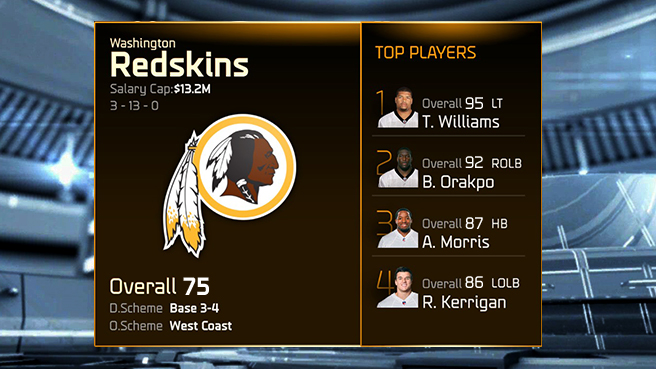 WASHINGTON REDSKINS
Despite the 3-13 record, Washington remains one of the most popular teams in Madden thanks to third-year quarterback Robert Griffin III. RGIII is the new Michael Vick in Madden terms, boasting a league-best 91 SPD at the quarterback position (Vick still comes in at an 89 SPD.) Thankfully, Griffin is protected by elite LT Trent Williams protecting his blind side at a 95 OVR. Griffin also has a new weapon in playmaker Desean Jackson, as well as workhorse running back Alfred Morris.
Defensively, Washington is reliant on two of the best outside linebackers in the league – ROLB Brian Orakpo (92 OVR) and LOLB Ryan Kerrigan (86 OVR). With Orakpo's 96 Power Move (PMV) and Kerrigan's 95 PMV, you'll want to mix in an outside blitz frequently to keep your opponents on their toes. With speed and power on both sides of the ball, Washington is poised to yet again be one of the most used teams in Madden this year.
Click here for a full breakdown of all player ratings from the AFC East and NFC East.