Posted July 22nd at 12:00am.
Build your Ultimate Team and take on players around the world in all-new Madden Ultimate Team Seasons. In Seasons mode, you'll square off against a random MUT player in an All-Pro game (three-minute quarters) and the ranking system aims to ensure that both teams are about the same overall rating. Play ten games a night, or ten games a week, it's all up to you. Your progress is saved and you can move ahead at any time you choose.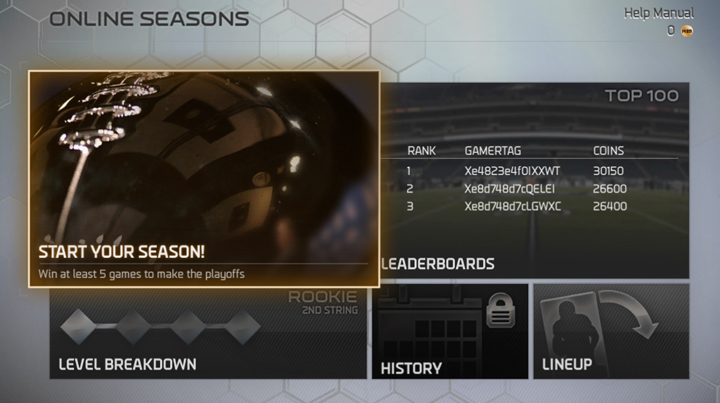 SURVIVE AND ADVANCE
Each season is made up of ten games and a four-round playoff. There are eight levels of play, starting at level one. If you win enough games to earn a playoff berth (five wins for level one), then you earn the right to advance to the next level once the playoffs for the current level are complete. There will also be a milestone for a number of wins to earn a first round bye (for eight wins for level one). With the bye, you'll skip the Wild Card game and go right to the Divisional contest.
Once you've advanced to level two and beyond, you'll see a number of games required to avoid demotion (maintain your level). If you win less than this number (three games in level two), you'll be demoted to the previous level. But fear not! You can always work your way back up the levels with more wins.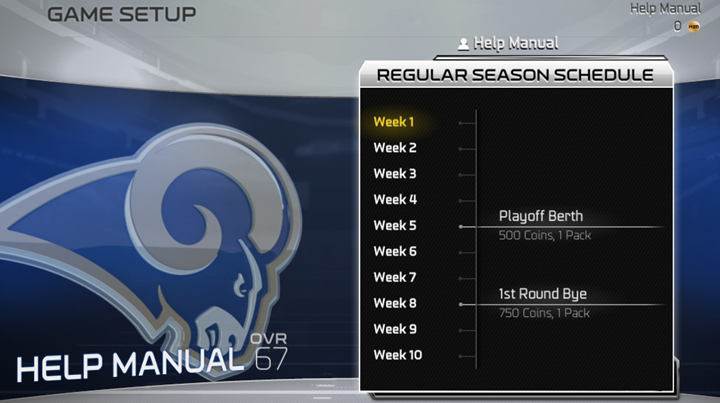 EARN REWARDS
You'll earn coins for each game you play in Seasons. More coins are awarded for outstanding performances, such as winning by lots of points or accumulating many yards of offense. Milestones such as earning a playoff berth or winning the bye are also accompanied by coin rewards. At certain milestones in later levels, you'll receive a reward pack that contains a Premium collectable that helps you get some great items such as unique alternate jerseys. You'll always receive an additional reward pack for winning the Super Bowl.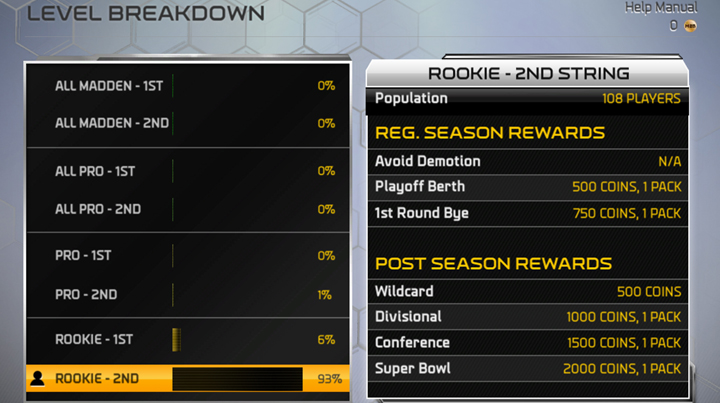 The leaderboard offers a Level Breakdown that shows exactly where you stand among your MUT peers. You'll also be able to review the History of all your Seasons play and relive the glory all over again.
The only way to prove your Ultimate Team's dominance is to win the Super Bowl in Head-to-Head Seasons. Unlike solo challenges against CPU squads, you'll be matching wits and skills with players that have built teams of legendary players just like yours. Only the best will win the All-Madden Super Bowl Championship in level eight.
Madden NFL 25 will be available on Tuesday, August 27, for Xbox 360 and PS3, and fans can learn more at the Madden website. Pre-order today to receive exclusive Franchise Packs for your Connected Franchise and Madden Ultimate Team!
Fans are also invited to become a Madden Insider for exclusive information on Facebook including the latest news, original content and more for Madden NFL 25.