Posted August 20th at 12:00am.
Patrick Balanca is a Madden NFL designer who worked on new presentation features in Madden NFL 25. Read on to find out more about the all-new signature player celebrations.
NFL player celebrations have become a staple in the league, and you'll find more than plenty of signature and common celebrations in Madden NFL 25. The best feeling in Madden is pulling off a huge play against an opponent and making them watch as your player celebrates in their face, and now more than ever those celebrations will feel like the real world of NFL football.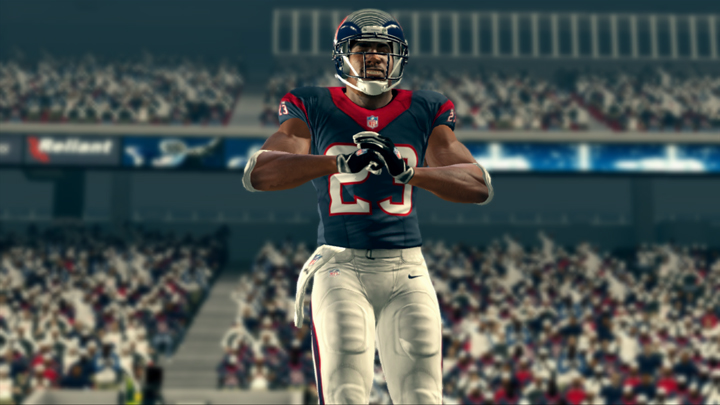 We've added more than 60 celebration animations for offensive and defensive players, including some of the league's biggest stars like Colin Kaepernick, Alfred Morris, and Von Miller, as well as Clay Matthews, Arian Foster, and Victor Cruz. We also snuck in some classics too, so make sure to play with old school players like Deion Sanders and Dante Hall to see what they can do after a big play.
This feature started with one ambitious tester, RG, who mined hours of NFL footage from the 2012 season and edited 15-second video clips of different celebrations. Some of the celebrations were specific to a player; others were celebrations that we see throughout the league. RG compiled so much content, the team could only develop about half this year and already has enough reference for another batch of celebrations next year.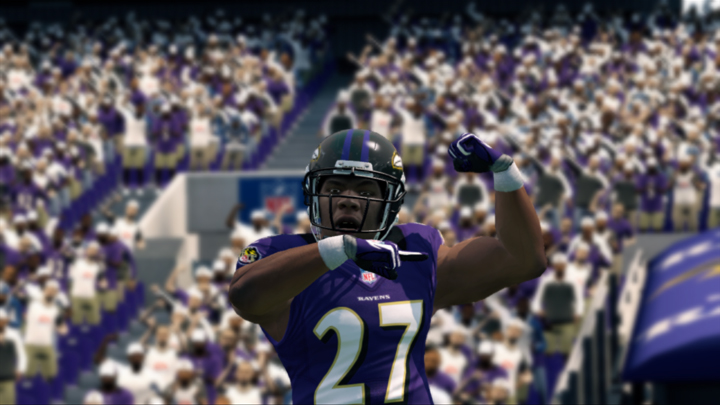 With this amazing reference material, the team spent two days in a MoCap studio with five actors practicing, rehearsing, and studying the reference over and over.
Lots of great stuff made it in. The list is loaded: Colin Kaepernick's signature bicep kiss, Ray Rice's flexing, and Antonio Smith's sword fight celebration all made the cut. Madden NFL 25 also features celebrations from both Clay Matthews (the Predator and Dirty Dancing) and J.J. Watt (the Finger Wag and a take on Matthews' Predator celebration). See the full list below.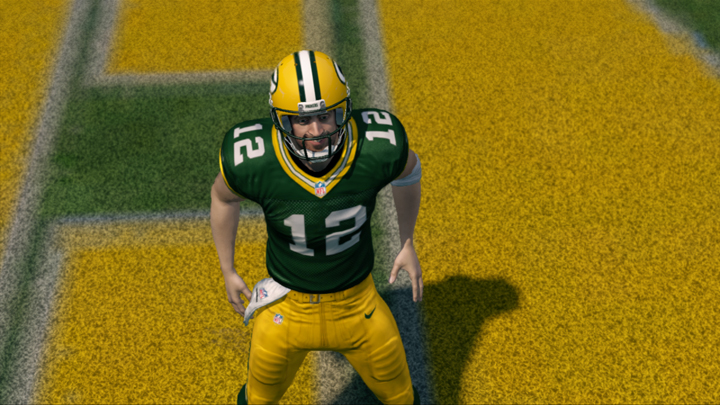 SIGNATURE CELEBRATIONS
· Marshawn Lynch – Skittles Rain Dance
· Patrick Willis – Flex Muscles
· John Abraham – Got my Eyes on You
· Aldon Smith – Sack Swagger Dance
· Alfred Morris – Home Run Swing
· Antonio Brown – Bennie Biggle Wiggle
· Antonio Smith – Sword Fight
· Arian Foster – Disciplined Bow
· Clay Matthews – Dirty Dancing
· Clay Matthews – Predator
· Michael Crabtree – Crabshake
· Victor Cruz – Full Salsa Dance
· Deion Sanders – Primetime Dance
· Dez Bryant – X Arms
· J.J. Watt – Mock Clay Matthews Predator
· J.J. Watt – Finger Wag
· Colin Kaepernick – Bicep Kiss
· Gerald McCoy – Wave to the Fans
· Maurice Jones Drew – Touchdown Dance
· Cam Newton – Flip the Ball to Fans
· Shaun Phillips – Bowling a Strike
· Ray Rice – Flex his Bicep
· Robert Griffin III – Kneel and Point to the Sky
· Stevan Ridley – Kick in the Door
· Aaron Rodgers – Championship Belt
· Von Miller – Sack Swagger Dance
· Cameron Wake – Super Flex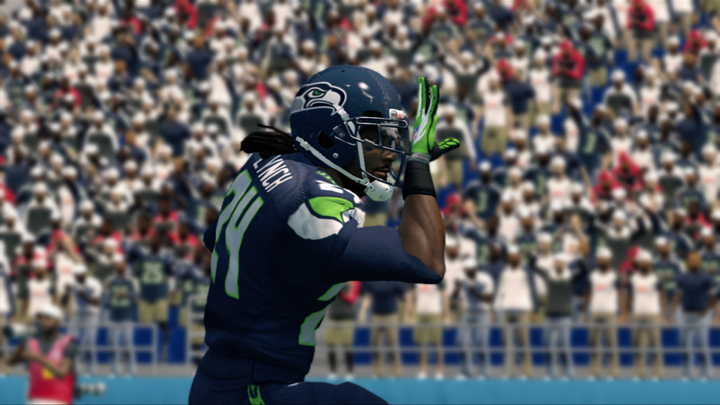 COMMON CELEBRATIONS
· The Dougie
· Air Guitar
· Beating his Chest
· Beating his Chest v2
· Big Man High Steps
· Big Man Poses
· Can't See Me
· Cat Daddy
· Heart, Kiss, Sky
· Dunk over the Crossbar
· Windmill Dunk over the Crossbar
· Layup over the Crossbar
· Dance and Spike the ball
· Brush Dirt off the Shoulders
· Fake Toss the ball to Fans
· Feed Me
· Gangnam Style
· Teammates pat the Players Helmet
· Hush Finger to fans
· Jump up and Flex
· Jump up after a Tackle
· Kick 'em off the Field
· Kiss to the Sky
· Place the Ball and Crossed Arms Pose
· Place the Ball and Flex Pose
· Point to the Fans
· Pray and Point to the Sky
· Punch and Flex
· The Robot
· Power Spike the Ball
· Spin the Football on the nose
· Three various Swagger Dances
· Through the Legs Jumpshot… Nothing but net
The goal of the presentation team is to get as close as possible to broadcast televised football while delivering emotional moments that bring the Madden player into the game and bonding with their favorite players. Adding these celebrations to Madden NFL 25 helps capture the spirit and identity of the players we love watching on Sundays.
Download the Madden NFL 25 demo today, and pre-order today to receive exclusive Franchise Packs for your Connected Franchise and Madden Ultimate Team!