Posted September 23rd at 12:00am.
Now that you've had a bit of time to dig into Madden NFL 25 on current-gen consoles you're probably getting very excited about what the next-generation machines have in store. After all, with plenty of special retail offers to upgrade to the Xbox One or PlayStation 4 version of the game, it's easier than ever to justify to friends and loved ones why you're playing Madden NFL all season long. Best of all, if you've been playing Madden NFL 25 already on Xbox 360 or PS3 then you're going to be able to bring over a significant amount of content from Madden Ultimate Team and get a big head start in Connected Franchise.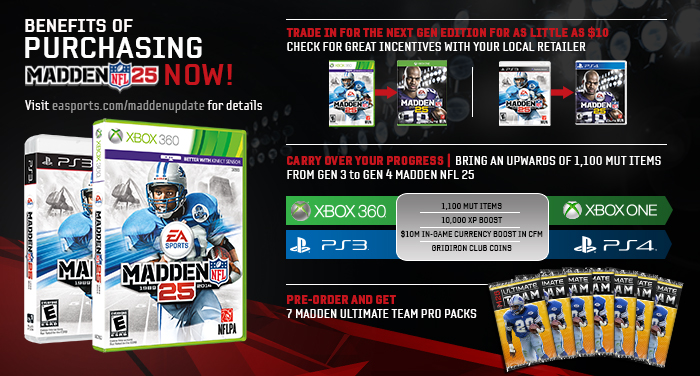 In the time between the launch of Madden NFL 25 on Xbox 360 and PlayStation 3 and Xbox One and PlayStation 4, you're bound to build up quite an Madden Ultimate Team. And after spending all that time getting your roster just right, it would be hard to start over. Luckily, you don't have to! When you fire up Madden Ultimate Team on your brand-new next-gen console, you'll be able to make a one-time transfer of up to 1,100 items.
When you transfer your Madden Ultimate Team to Xbox One and PlayStation 4, you'll get to bring over 100 active items (55 players, 45 additional items) and up to 1000 reserves*. Don't worry about transferring over your best items and then leaving your current-gen team roster bone dry: all the items you transfer can still be used on Xbox 360 or PlayStation 3. Caveats being that once you transfer an item it can no longer be auctioned or traded, so make sure to take that into consideration before you make the call. Also, the carry-over will apply to those transferring Gen 3 to Gen 4 across PS3 to PS4 only and Xbox 360 to Xbox One ONLY.
While everyone else is opening starter packs and taking on the first few Solo Challenges in the hopes of buffing up their team, you'll be coming right out of the gates with a powerhouse and laying the smack down on anyone foolish enough to challenge you online. Win early, win often.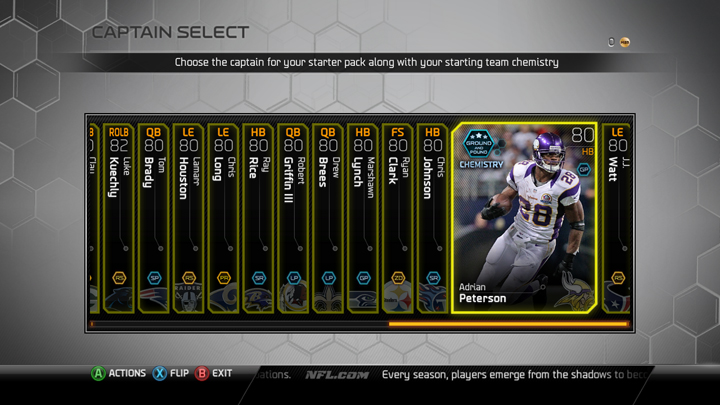 In addition to the Ultimate Team transfer mentioned above, you also have the opportunity to start out on the right foot in Connected Franchise. Coaches will get a one-time boost of 10,000 XP at the outset. Meanwhile, Owners within Connected Franchise will also get a one-time in-game currency bonus of $10M to put toward extra resources for their team. As you embark on a new Connected Franchise experience rejoice in the fact that you're already leaps and bounds ahead of your friends who waited to jump on the Madden NFL train. It's only fitting you should use your bonus XP or cash to sign all the best free agents and make massive upgrades to your team and stadium that put you out in front of the pack right out of the gate.
As outlined above in the coming months your patience will be rewarded with not only a new game on a new console, but with plenty of rewards for your continued support of Madden NFL 25. It may be our anniversary, but you're the ones who deserve all the presents. Have fun!
Fans are invited to become a Madden Insider for exclusive information on Facebook including the latest news, original content and more for Madden NFL 25.
* RECEIPT OF MADDEN ULTIMATE TEAM CONTENT REQUIRES ACCESS TO MADDEN NFL 25 ON BOTH CURRENT AND NEXT GENERATION CONSOLES. ALL CONTENT TRANSFERS ARE FINAL. YOU MUST BE 13+ TO REGISTER FOR AN ORIGIN ACCOUNT. EA ONLINE RIVACY POLICY AND TERMS OF SERVICE CAN BE FOUND AT WWW.EA.COM. EA MAY RETIRE ONLINE FEATURES, ONLINE SERVICES AND DOWNLOADABLE CONTENT AFTER 30 DAYS NOTICE POSTED ON WWW.EA.COM/1/SERVICE-UPDATES.