Posted July 12th at 12:00am.
If you really want your Ultimate Team in Madden NFL 25 to be, well, Ultimate, you have to manage team chemistry. Chemistry is a system of boosts that offer certain attributes for all players on your team.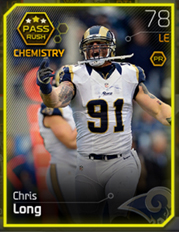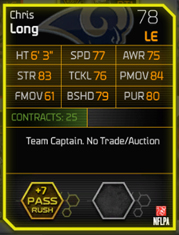 Players that provide chemistry have a special hex icon on the front of their player items to see how much of a boost your player provides. Team chemistry ranges from 0-99, and as you add more and more to your team, the attribute boosts get bigger and bigger. Tiers, position, and chemistry types determine how much chemistry a player provides. For example, every gold tier left end player with Pass Rush provides the same chemistry boost.
Only starters and players in their proper positions will give you a chemistry boost. If a Ground and Pound left tackle is playing out of position at right tackle, you won't receive anything from his chemistry. The chemistry icons of substitute players are highlighted when they match your team chemistry.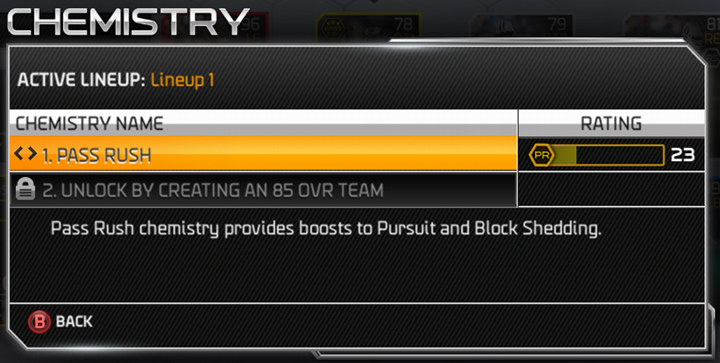 Upon unlocking your starter team, your captain provides some starting chemistry, which can be selected in the starting lineup. You can review your rating in team chemistry by selecting that tile on the lineup panel. Scroll left and right to see your totals in all the different chemistries.
JUST THE FACTS
There are four kinds of team chemistry for both offense and defense: Here's a list of the team chemistry choices, along with the attributes they boost.
OFFENSE
• Short Pass – PBLK Pass Blocking and CINT Catch in Traffic
• Long Pass – PBLK Pass Blocking and RRUN Route Running
• Ground and Pound – RBLK Run Blocking and TRCK Trucking
• Speed Run – RBLK Run Blocking and ELUS Elusiveness
DEFENSE
• Zone Defense – PREC Play Recognition and ZCOV Zone Coverage
• Man Defense – PREC Play Recognition and MCOV Man Coverage
• Pass Rush – BSHD Block Shedding and PUR Pursuit
• Run Stuff – BSHD Block Shedding and TCKL Tackling
DOUBLE YOUR FUN
Your team begins with one available chemistry slot, and you can choose any of the eight available types. When your OVR gets to 85, you'll receive a second slot, allowing you to experiment with different combinations of chemistry. You'll want to maximize the chemistries that complement your play style.
Looking to get a leg up on chemistry? Be sure to utilize the chemistry combinations like Long Pass and Short Pass, which result in a double boost to your pass blocking. Your three choices for chemistry combinations are as follows:
• Two offense or two defense that share an attribute, such as Pass Rush and Run Stuff
• Two offense or two defense that don't share an attribute, such as Long Pass and Speed Run
• One offense and one defense, such as Ground and Pound and Zone Defense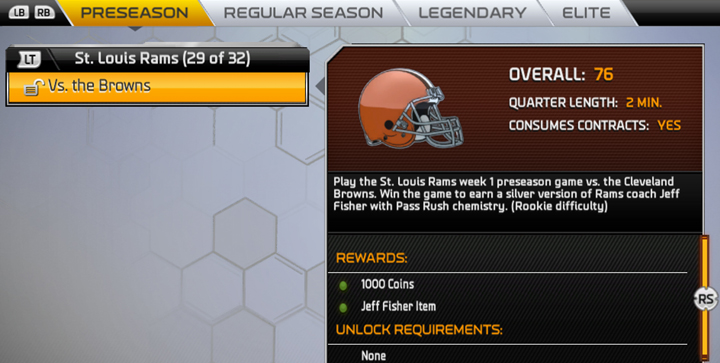 FIND A COACH WITH CHEMISTRY
The Preseason solo challenges are easier matchups that provide a coach item that has additional chemistry. Search through the list of games to find the chemistry you're looking for. For example, if you want Pass Rush chemistry, check out the St. Louis Rams' game against the Browns.
GET SOME LEGENDARY CHEMISTRY
The legendary solo challenges and collections provide a path to an elite player item that has chemistry. Win one of the legendary solo challenges to earn a collectible. Find the legendary player that matches that collectible in packs, and then proceed to the legendary collection to upgrade your player to a version with chemistry. The collection description tells you what kind of chemistry your elite legendary player will have.
EIGHT KINDS OF ELITE CHEMISTRY
In addition to providing important boosts for your players, chemistry is a requirement for the Elite series of solo challenges. For example, the first challenge in the sequence requires Run Stuff chemistry.
One tip: Make several lineups to help fulfill the various chemistry requirements of these challenges. The rewards are well worth your trouble, and you'll learn a lot about how to maximize your team chemistry.
Madden NFL 25 will be available on Tuesday, August 27, for Xbox 360 and PS3, and fans can learn more at the Madden website. Pre-order today to receive exclusive Franchise Packs for your Connected Franchise and Madden Ultimate Team!
Fans are also invited to become a Madden Insider for exclusive information on Facebook including the latest news, original content and more for Madden NFL 25.