Posted June 27th at 12:00am.
EA SPORTS Game Changers are high-profile members of the EA SPORTS community who use their expert knowledge of our games to inform, entertain, and assist others.
Today's Game Changers blog comes to us from "ZFarls," who writes the official strategy guides for both Madden NFL and NCAA Football 14, and also runs MaddenTips.com. Follow him on Twitter at @MaddenBible.
Madden Share is a brand new feature in Madden NFL 25 that will greatly enhance your gameplay experience. By heading to the share tab on the home screen, gamers can download rosters, sliders and playbooks from the community. Whether you choose to discover new, unstoppable playbooks or that perfect set of sliders, Madden Share is sure to keep your game dynamic.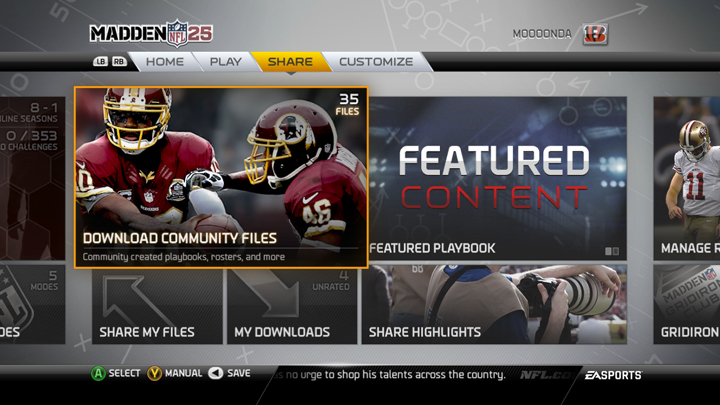 SLIDERS
Sliders allow for individual gamers to customize their own experience and set difficulty levels for individual aspects of the game. If you are struggling in a certain area, like dropping a lot of passes, you can adjust the sliders to improve the hands of your wideouts. Sliders can completely alter your Madden NFL experience, so make sure to download a few different types to see which style you prefer.
Pro Tip: For a real challenge, try tilting the sliders in your opponent's favor.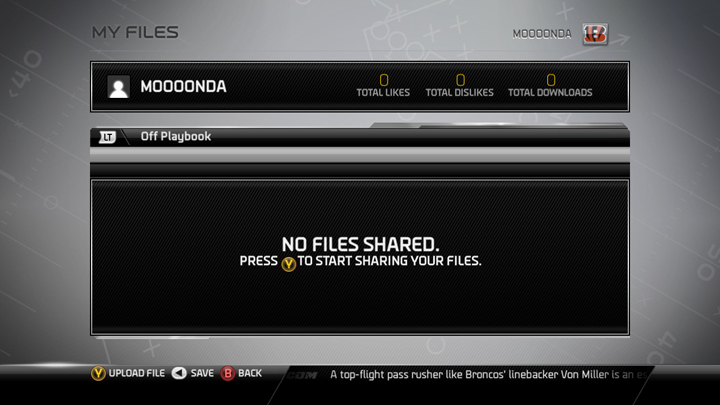 ROSTERS
Madden NFL 25 has an insane amount of ratings, skills, and equipment to create an authentic NFL experience. If you want to take a shot at being your own ratings czar, you can now edit every aspect and create your own ratings system. You can also download a file from other players who have taken their own shot at re-rating rosters.
Pro Tip: If you download a roster file that you enjoy, you can choose to start your Connected Franchise with it.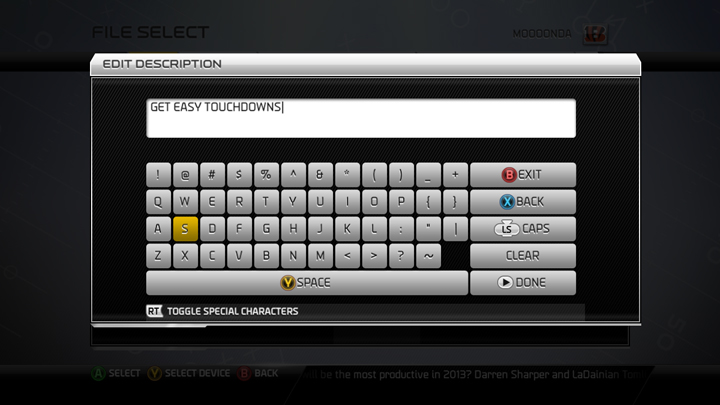 CUSTOM PLAYBOOKS
The best Madden NFL players are always looking for an edge, and that often involves finding the perfect playbook. Not only can you make a custom playbook and add formations from different teams, but you can also share that playbook with the rest of the community. Check out the top downloads or sort by highest-rated: With all of creative football minds in the community, you will rarely see two identical playbooks this season.
Pro Tip: You can download separate playbook files for both offense and defense.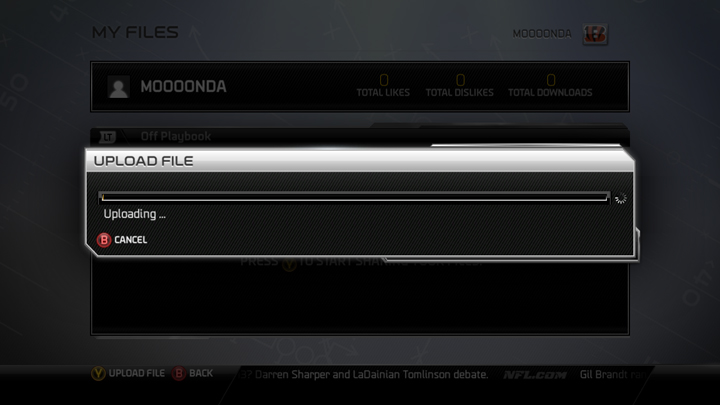 TOP DOWNLOADS
When you bring together a passionate community like Madden NFL fans, gamers will create some awesome content. Now that it is easy to share and download files, you can expect to see some crazy creations. To find out what is currently the talk of the community, head to the Top Downloads tab and sort to find something you enjoy. Once you try out the file, head into "My Downloads" and rate it to let others know if it is worth trying.
Pro Tip: If you like a specific user's file, you can check and see what other files they have uploaded.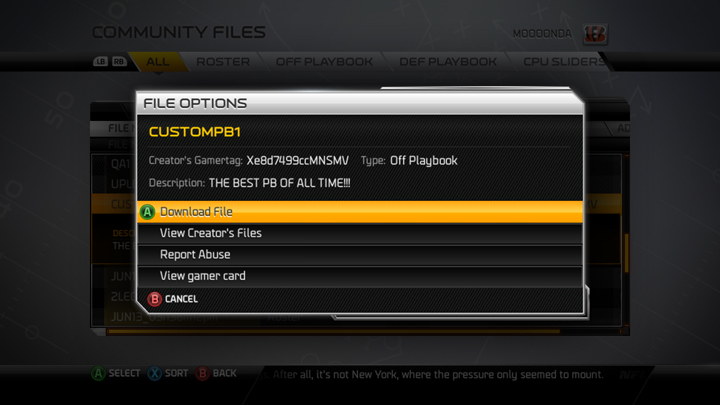 SHARE YOUR FILES
While downloading other files is a great way to use Madden Share, there wouldn't be anything available if people didn't share their creations with the world.
Don't forget to check out "Madden Share" on August 27 to get a look at my special "Mobile QB Playbook" for EAInsider Members. I will be saving a special playbook to my Xbox Live and PSN account "ZFarls," which will feature a heavy mix of read option and spread passing.
If you are looking to play with a new-school QB like Colin Kaepernick, Russell Wilson or RG3, this playbook will allow you to maximize your skill set with some of the best new formation and plays in the game. Don't forget to check out Madden Tips for more tips on read option in Madden NFL 25!
Pro Tip: Look to join an online community to see what files the community wants the most.
Madden NFL 25 will be available on Tuesday, August 27, for Xbox 360 and PS3, and fans can learn more at the Madden website. Pre-order today to receive exclusive Franchise Packs for your Connected Franchise and Madden Ultimate Team!
Fans are also invited to become a Madden Insider for exclusive information on Facebook including the latest news, original content and more for Madden NFL 25.