Posted June 19th at 12:00am.
A former college football player, Rex Dickson is also a 17-year veteran of the game industry. Dickson, named EA SPORTS Tiburon's first Creative Director for Central Gameplay as part of an initiative to triple the size of the Central Gameplay team, now leads a team of more than 40 people dedicated to creating the best football games on Earth.
EA SPORTS sat down with Dickson to find out how he's helping bring Madden NFL 25 to the PlayStation 4 and Xbox One.
On how TrueStep changes the way people play Madden:
The main thing people will feel is the responsiveness and how smooth it is. People will feel more connected to their player and anything they do on the stick will be reflected in their player's feet and the way they move. No matter what you do with the stick, the player will respond with accurate steps and weight transfer. It is not only more responsive, it is also more realistic than any running animations we have ever had before.
We've shared this technology with FIFA, and there are core engineers on both teams that have been working on this for the last year and a half to two years. So they've had a pretty good head start of introducing this technology.
There's also an additional technology called "Phase Matching." People have complained about sliding, popping, and skating. The reason that has happened is because we're transitioning from countless animations on the fly. Keeping the legs perfectly blended and 'in phase' during these transitions was historically one of our biggest hurdles. Because we are no longer bound to looping run animations, we can now treat each step individually. Phase matching allows us to blend seamlessly from locomotion to other animations without 'popping' the legs into place. This results in significantly smoother animations.
On how real-life NFL events impact Madden:
The biggest thing was watching running backs and all the weapons they have. Take the infamous playoff run that Marshawn Lynch had. I analyzed that run carefully and saw that 60-70 percent of his moves in that run were not possible in Madden. Running backs have all these weapons, so why weren't they in the game? It goes right back to our "It's in the game" mantra. We wanted to implement a bunch of ball-carrier features to give the user a full arsenal that they could use. We thought of it as going from a box of four crayons to a box of 36. You can now get a lot more creative and develop your own personal style.
We started coming up with a system where certain moves are more effective depending on the angle the defender takes, so there's a certain "ramp-up" before you decide to truck stick or back juke. You start learning different defensive angles and approaches, and when moves are more effective. We like to talk about the 'meta-game' of the ball carrier, 1-on-1 versus a defender in the open field. It is the art of making people miss, and we've gone from eight moves in your arsenal to more than 40. That feature has really come out awesome and it's been really gratifying.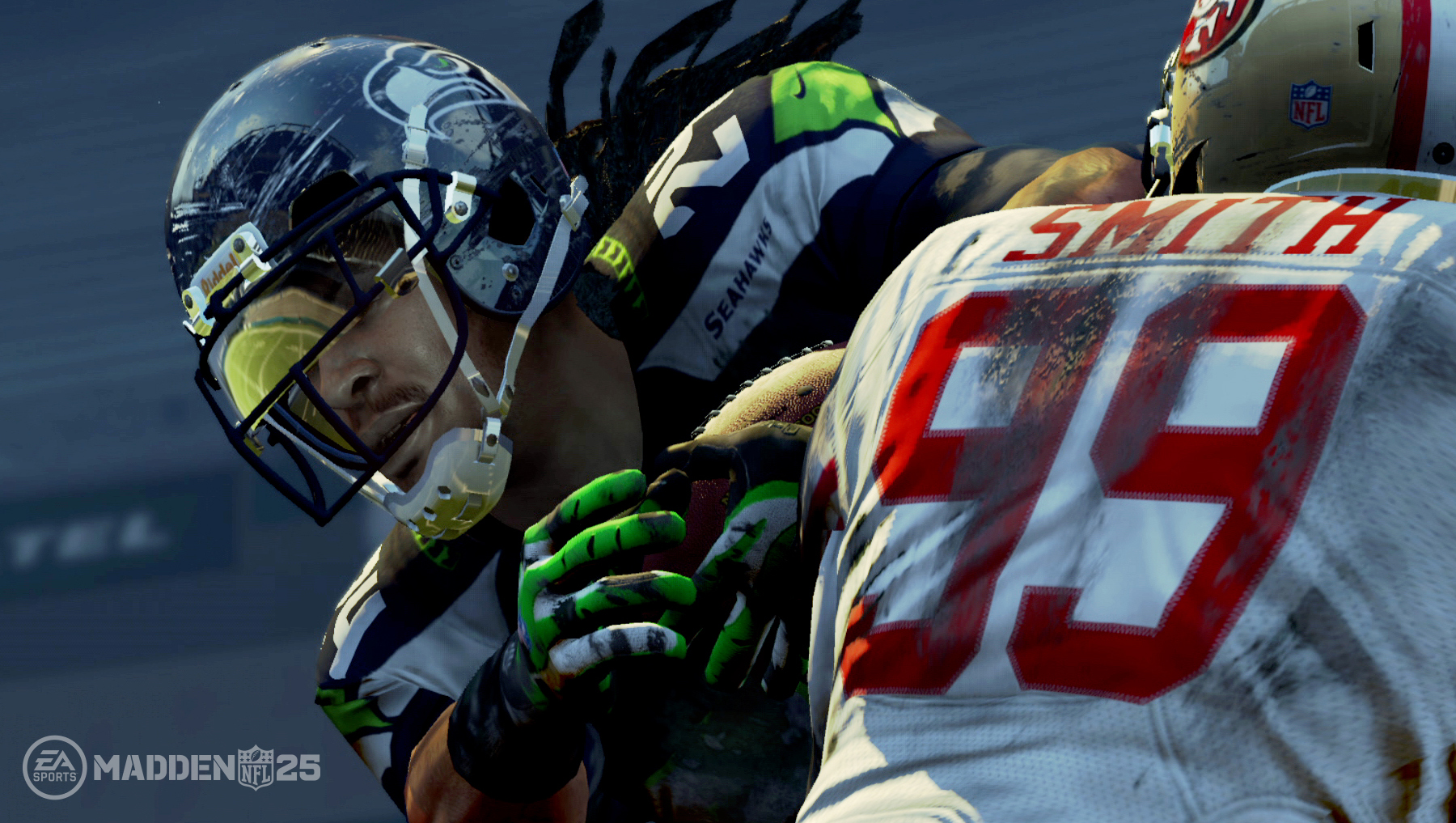 On physics in the EA SPORTS IGNITE engine:
Last year's Infinity Engine was a huge piece of technology to implement in one year. When we look at the results, our team felt that it would take 3-4 years to fully realize the potential of that technology. There's a concept called "Conservation of Momentum" where we take weight, center of gravity, and momentum into consideration. That's something we worked on heavily this year so we didn't see players bounce in the wrong directions. We wanted to get the "conservation of momentum" looking right.
On Xbox One and PlayStation 4, if you hit a blocker from behind, you can push them forward. You can also truck into an engaged block and break it apart, so it's a much more natural physics reaction based on momentum and center of gravity. We're going to keep capitalizing on the power of our physics engine in the years to come. We have some great things planned.
On the importance of being "immersed" in the action:
In any creative medium, you want to be fully immersed in the experience and anything that jars you out of that takes away from the experience. Our focus for a long time has been immersion. Having played football in college, I know that players talk a lot. There's trash talking, line calls, quarterbacks calling out the mike, there are people constantly talking. We built a whole Player Chatter feature this year so you'll hear quarterbacks call out protections and the defenses will yell out formations. You'll also hear emotional response, and it really helps capture the emotion of football. The audio being linked to what's happening in game really adds to the immersion. You feel like you're a member of the team.
When we introduce our new sidelines and crowd on Xbox One and PlayStation 4, it's not just going to be a static crowd and looping animation. They're going to react to things happening, whether it's exploding for a big play or deflating. It's a huge focus for us, and something we're going to blow out in Generation 4.
On the challenges he's faced with Madden gameplay, and how he's overcome them:
From a design perspective, the biggest challenge is that nothing is isolated. There is a lot of crossover so when you touch something like Locomotion, everything you change could potentially break multiple things. You always have to consider "splash damage" and how many other interdependent systems will be impacted. In other genres, lots of designs are isolated to a specific level and feature. In sports, everything is interdependent.
We leverage the veterans of Tiburon that have worked on this franchise for 10-15 years. When you have an idea, they'll tell you all the things it will impact and assess the risk that is being introduced. It's been about leaning on those guys in determining how much of a risk certain things are.
Check back with EA SPORTS for more with the development team at Madden NFL 25 over the next few weeks.
More Madden NFL 25 Content
Official E3 Trailer
Official EA SPORTS IGNITE Trailer
Next-Gen Announcement
Pre-Order Today