Posted July 1st at 12:00am.
If you've never played Madden Ultimate Team, then you've been missing out one a whole new world of wish-fulfillment. Madden Ultimate Team allows you to assemble your very own team, before challenging other fans for the right to call yourself the best of the best. Several new features have been added this year to make Madden Ultimate Team more fun and compelling than ever before.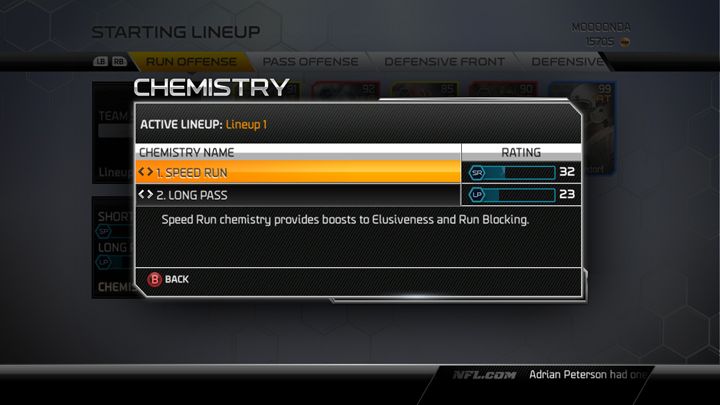 THEY'VE GOT CHEMISTRY
Madden NFL 25 marks the reintroduction of Chemistry, which revamps the way you'll set your lineup. There are four offensive and four defensive styles to choose from, and matching up players who fit into a given scheme is crucial to success in the mode.
Looking to air it out with a long pass offense? In that case, you should combine a strong-armed quarterback like Matthew Stafford with a burner like Larry Fitzgerald. If you'd like to build your defense around rushing the QB, then players like Aldon Smith or Von Miller will prove invaluable. Here's the full breakdown of Chemistries available for both the offense and defense:
Offense
Short Pass
Long Pass
Ground & Pound
Speed Run
Defense
Zone Defense
Man Defense
Pass Rush
Run Stuff
Upping Chemistry will unlock team bonuses, and the more in-sync your team is the bigger the boost. For instance, a high Speed Run Chemistry rating will provide a significant boost to both the elusiveness for your ball-carriers as well as run blocking for your offensive line. The goal in Madden Ultimate Team is domination, and the inclusion of Chemistry adds another wrinkle that can separate good teams from great ones.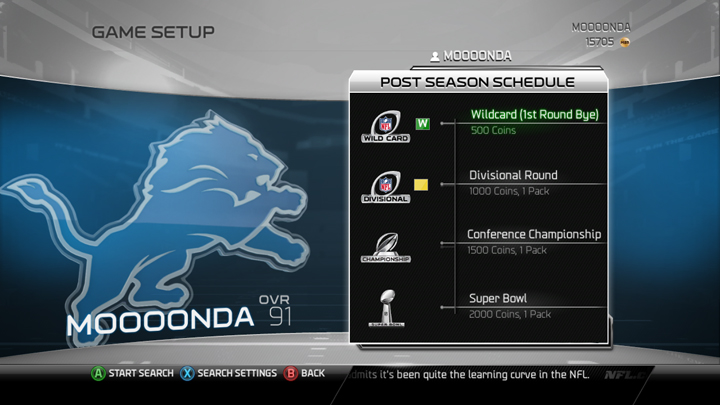 BRING ON THE SEASON
Madden NFL 25 marks a new way to compete in Madden Ultimate Team with Head-to-Head Seasons mode. Players compete in 10-game seasons that culminate with an eight-team playoff. Performing well in the regular season earns a higher seed in the playoffs and potential first-round bye, and rewards will increase as you advance deeper into the playoffs. There are eight increasing levels of competition. The higher you climb, the bigger the rewards become.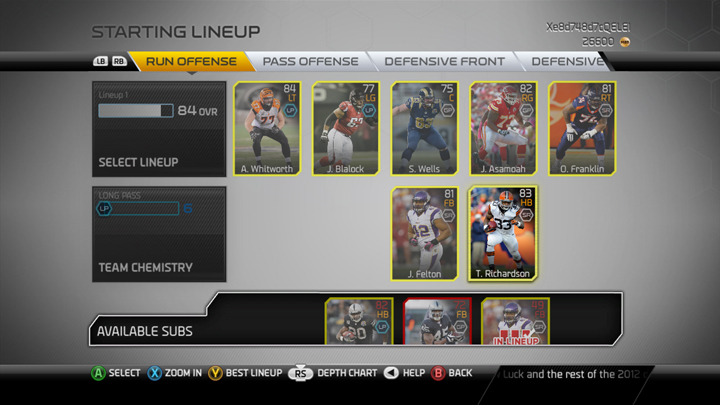 PUTTING THE BEST TEAM ON THE FIELD
The Best Lineup button has been upgraded, making it quicker and easier than ever before to set your roster. Previously, Best Lineup was limited to choosing from your active items, so players in your reserve weren't considered for the roster. Best Lineup now looks at your ENTIRE list of players, pulling from both the active roster and reserves. You're still free to set your lineups and tweak your personnel, but anyone who wants to quickly set a strong roster and jump into a game can now do so with a tap of a button.
Madden Ultimate Team continues to offer all the other great content and features fans have come to expect. Grab new packs to improve your team, buy and sell items in the Auction House, and even take the action offline with Solo Challenges. Players can also complete collections to gain rare items, and special promotions throughout the year will offer rare players with significant stat boosts. Come August 27, prepare to dig in and create your very own Madden Ultimate Team!
Madden NFL 25 will be available on Tuesday, August 27, for Xbox 360 and PS3, and fans can learn more at the Madden website. Pre-order today to receive exclusive Franchise Packs for your Connected Franchise and Madden Ultimate Team!
Fans are also invited to become a Madden Insider for exclusive information on Facebook including the latest news, original content and more for Madden NFL 25.
For the full press release, please see below.
EA SPORTS REVEALS MADDEN NFL 25 PLAYBOOK 5: ULTIMATE TEAM
Enjoy New Ways to Play and Build Your Team with Head-to-Head Seasons, Team Chemistry, and More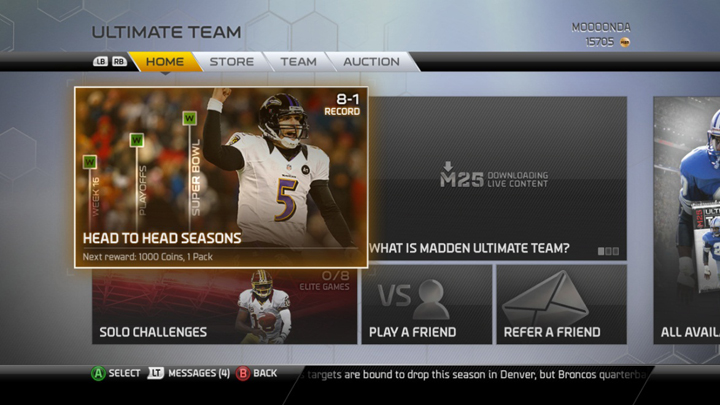 July 1, 2013 – Today marks the launch of the most recent Madden NFL 25 Playbook, "Madden Ultimate Team." The perennially popular mode provides fans with fresh ways to not only build a legendary team of NFL stars, but also exciting new ways to put their squad to the test. The return of Chemistry revamps the way lineups are created, and the new Head-to-Head Seasons mode brings higher stakes with richer rewards. Last but not least, the radically improved Best Lineup feature allows you to quickly and easily sort through your entire roster and reserves to make sure you have the best possible team on the field. A blog providing full details on what's new in Madden Ultimate Team can be found here.
Team Chemistry adds a new wrinkle to Madden Ultimate Team, with on-field performance enhanced depending on how well teammates mesh. With four offensive and four defensive styles to choose from fans must determine their team identity and then fill their roster with players who not only look good on paper, but also fit into the scheme.
The new Head-to-Head Seasons mode provides an exciting twist on the traditional formula, pitting players against one another in a 10-game season with a playoff for those who qualify. Try to earn a first round bye, and then storm through the playoffs in order to win coins and reward packs. With 8 levels of competition there's always a new challenger waiting to test your skills.
This year also marks an overhaul to Best Lineup, where a simple tap of a button will sort through your entire collection and put together your highest-rated team on both offense and defense. Those with a large roster of both active and reserve players who don't want to spend a lot of time organizing can simply tap Best Lineup and immediately see their most formidable squad.
Madden Ultimate Team gives fans the opportunity to collect star players, set lineups, and complete collections to earn coins, special packs or elite players and items. In addition to buying packs in the online store, Ultimate Team enthusiasts can post and bid on items and players on the auction block. Throughout both the regular season and off season, Ultimate Team players will find special challenges and rewards for big games, holidays, special events and more.
This year Madden NFL 25 invites players to Run Free and utilize the precision modifier to access a library of 38 different ball carrier moves. Fans can learn more by checking out the Run Free trailer and visiting the Run Free feature page. For more Madden NFL 25 assets, please visit http://maddennfl25.newslinevine.com/.
Embraced by fans and honored by critics for 25 years, Madden NFL is known as the NFL's "33rd Franchise" due to its authentic gameplay, the development team's unparalleled access to NFL resources and its prominent place in NFL culture.
Madden NFL 25 is developed in Orlando, Florida by EA Tiburon and will be available for the Xbox 360® video game and entertainment system and PlayStation®3 computer entertainment system for $59.99. To learn more about Madden NFL 25, visit http://www.easports.com/madden-nfl. Fans are also invited to become a Madden Insider for exclusive information on Facebook including the latest news, original content and more for Madden NFL 25, and keep up with franchise news on the Madden NFL 25 Bleacher Report hub.
All player participation has been facilitated by National Football League Players Incorporated (NFL PLAYERS), the licensing and marketing subsidiary of the NFL Players Association (NFLPA).
EA SPORTS is one of the leading sports entertainment brands in the world, with top-selling videogame franchises, award-winning interactive technology, fan programs and cross-platform digital experiences. EA SPORTS creates connected experiences that ignite the emotion of sports through industry-leading sports videogames, including Madden NFL football, FIFA Soccer, NHL® hockey, NBA LIVE basketball, NCAA® Football, Tiger Woods PGA TOUR® golf, SSX™ and Fight Night boxing.
For more information about EA SPORTS, including news, video, blogs, forums and game apps, please visit www.easports.com to connect, share and compete.