Posted August 15th at 12:00am.
Quarterbacks make the football world go 'round, and it's no different in Madden NFL 25. Quarterbacks are the most important players on the field and we've reflected that in the Madden 25 ratings.
Let's look at the ratings that make Aaron Rodgers, Tom Brady, Peyton Manning, Drew Brees and Matt Ryan the best of the best in Madden NFL 25.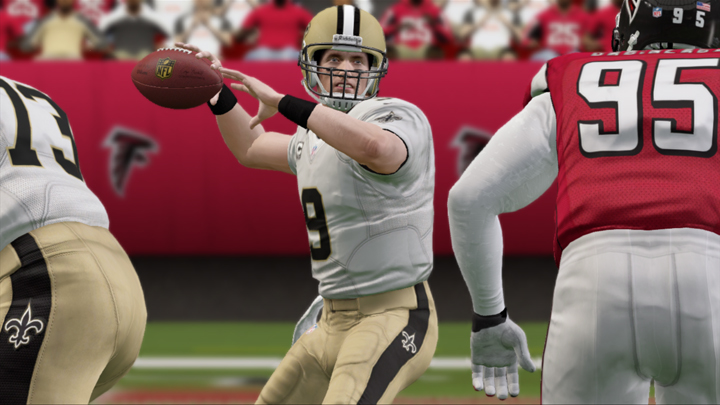 AWARENESS (AWR)
Let's start with the biggest unknown in all of Madden ratings: the awareness rating (AWR). AWR will have a big impact on the ability of CPU-controlled QB's and their ability to make plays against your defense.
Here's a list of a few things that AWR impacts:
- Used in combination with physical ratings to determine pass trajectory.
- Determines the decision made on option routes.
- Determines QB's reaction time when scrambling.
- Determines QB's recognition of threats in the pocket
- Determines if a QB can throw a ball away.
The top five quarterbacks are all elite in their awareness ratings, which is why you'll have trouble stopping Tom Brady from shredding your defense with perfect trajectories on his deep balls. Guys like Brady will almost always make the correct read on option routes. You won't get many sacks on Rodgers and Manning because they'll throw the ball away to avoid negative plays.
Did you Know: While none of the top five QB's are known for their scrambling, awareness has quite an impact on scrambling QB's. When playing against fast, running QB's, a high AWR rating makes these guys take off and run when they see an opening rather than forcing a pass into a tight window or taking a drive-stalling sack.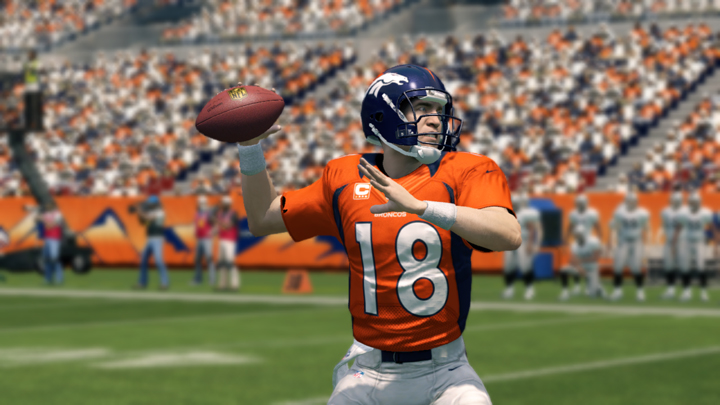 THROW POWER AND THROW ACCURACY (THP & THA)
Beyond the mental aspect of playing quarterback, there are two other critical attributes that great quarterbacks must have: arm strength and accuracy. None of the top five quarterbacks in Madden lack in either of these areas, especially the highly-rated Rodgers.
Madden Ratings Czar, Donny Moore on Aaron Rodgers' 95 THP rating: "He has an elite arm. He can make all the throws and put the ball into tiny windows that other QB's can't."
Throw Power rating (THP) affects the speed at which the ball is thrown for each of the passing trajectories. A strong-armed QB can get deeper throws to receivers faster, helping avoid interceptions and incompletions.
Did you Know: The THP takes into account the weather conditions when determining the power behind throws. The wetter the conditions, the less power your QB's will have behind their throws.
Weather conditions notwithstanding, all of the QB's in the top five have elite arm strength and should provide you the power to fit balls to covered receivers better than the rest of the league.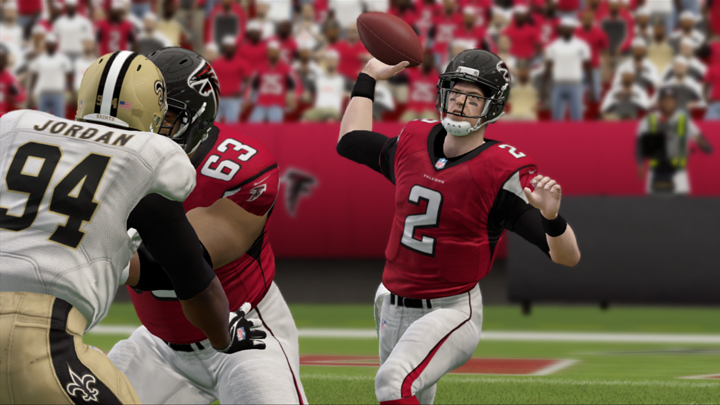 A rocket arm is not all a quarterback needs to fit a ball into tight windows. Great QB's also have pin-point accuracy, and that might be even more important than arm strength.
Our ratings have broken down Throw Accuracy (THA) into 3 categories: short, medium and deep. While Aaron Rodgers is very accurate throwing to all parts of the field, some quarterbacks are much more accurate on short throws than deep throws. Here's the breakdown:
- Short Accuracy – rating is the accuracy percentage of the QB on throws under 20 yards.
- Medium Accuracy – rating is the accuracy percentage of the QB on throws of 20-40 yards.
- Deep Accuracy – rating is the accuracy percentage of the QB on throws greater than 40 yards.
Aaron Rodgers has a deep accuracy rating of 87, which means that 87% of Rodgers' deep throws are on target. That's just silly.
The Czar on Rodgers Deep Throw Accuracy: "His deep accuracy is good enough to put him behind only Peyton Manning and Colin Kaepernick. Rodgers throws one of the prettiest deep balls I've ever seen, and he does it with great precision."
When kicking off your first game or first Connected Franchise in Madden NFL 25, make sure you have a quarterback with skills that fit your playing style. If you rely on the passing game to score points, the AWR, THP and THA ratings are very important to your success. Madden, Rodgers, Brady, Manning, Brees and Ryan all have what it takes to take you to the promised-land. Now that you know what each rating means, you'll be more prepared than ever to utilize their skills and dominate the competition.
Download the Madden NFL 25 demo today, and pre-order today to receive exclusive Franchise Packs for your Connected Franchise and Madden Ultimate Team!