Madden NFL 25 Title Update #2 Details
Posted October 24th at 12:00am.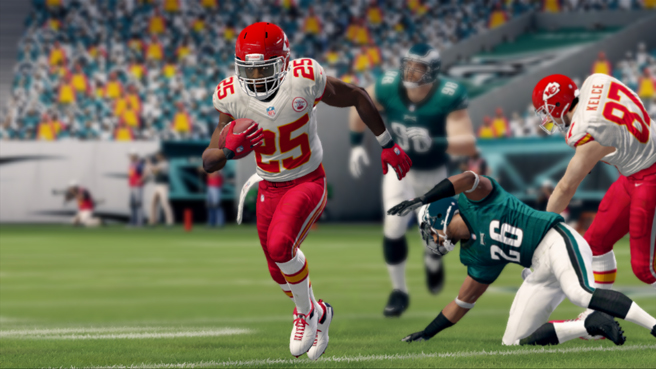 The second title update to Madden NFL 25 is now available on Xbox 360 and PlayStation 3.
The update includes a number of fixes to gameplay, presentation, Madden Ultimate Team and Connected Franchise (among others).
GENERAL UPDATES
- Improved stability in all game modes.
- Fixed an issue with Gameface, which made eyes render gray.
GAMEPLAY
- Tuned in-game injuries which were occurring too frequently.
- Tuned pull blocking in various scenarios on the offensive line.
- Tuned down broken tackles when using the Truck Stick.
- Fixed an issue with toss/sweep plays when game speed was set to Slow
MADDEN ULTIMATE TEAM
- Fixed an issue with Solo Challenges awarding players a win without finishing the game.
- Fixed an issue where offline users that earned a Gold in a Skill Tutorial would not receive the content in Madden Ultimate Team.
CONNECTED FRANCHISE
- Fixed an issue where some players from an Imported Draft Class would not have facemasks.
- Tuned ratings for imported draft classes (Coming in too low compared to NCAA Football 14 ratings.
- Fixed an issue with accelerated clock in CFM Head-to-Head games.
- Fixed an exploit where users could make trades outside of Week 8 from the web.
- Fixed an issue where the same draft storylines would appear in consecutive seasons.
- Fixed an issue where the Vikings stadium overlay would show unrealistically low temperatures and heavy snow during the preseason.
- Fixed an issue where toggles for Heat Seeker, Switch Assist, and Ball Hawk would be OFF in game even though they were ON in league settings.
PRESENTATION
- Reinstated touchdown celebrations in all online game modes.
- Improved logic used to select GMC Never Say Never Moment of the Game.
OTHER MISCELLANEOUS UPDATES
Order today and celebrate the 25th anniversary of Madden NFL.