Madden NFL 25 Intelligent Commentary
Posted November 7th at 12:00am.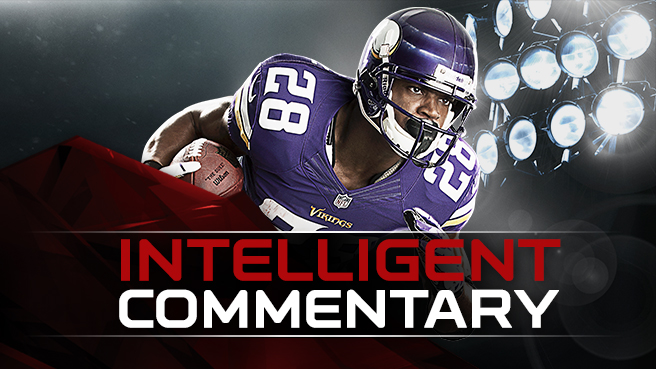 Mike Young and Kolbe Lanchbaugh are the creative directors of Madden NFL 25 on Xbox One and PlayStation 4, and central pieces to the team that has made Living Worlds a reality on Gen 4 consoles.
This article also includes insights and anecdotes from Madden NFL 25 development director Sean Graddy.
ON THE IMPACT OF EA SPORTS IGNITE
Because of the additional memory and processing power on Gen 4 consoles, we can bring more data into the game that tells a richer, deeper story about players, their team, and their career than we've ever been able to tell in years.
ON IMPROVEMENTS TO COMMENTARY
One common complaint our fans have had is that our commentary always struggles to remember things in career mode. Madden NFL 25 on Gen 4 will have deeper commentary with a better knowledge of previous games. Jim Nantz, Phil Simms, and sideline reporter Danielle Bellini can tell a more interesting story by referencing key injuries and week-to-week storylines.
ON HOW COMMENTARY IMPROVES FRANCHISE MODE
In previous Madden games, seasons would often feel like a series of 16 one-off games instead of a living, breathing narrative that changes by the week. That will change in Madden NFL 25 on next gen systems. If your player is coming off an Offensive Player of the Week award, the announcers may comment on that.
Madden NFL 25 is available Tuesday, November 12 on PlayStation 4 and Tuesday, November 19 on Xbox One. Preorder today, and learn more about Madden NFL on next gen.