5 Things to Watch for in the Madden NFL 25 Demo
Posted August 14th at 12:00am.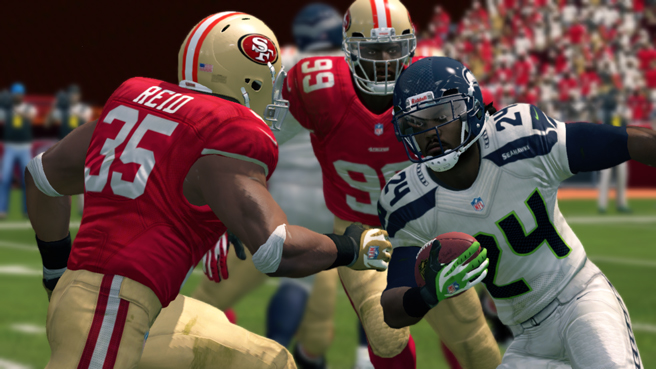 The Madden NFL 25 demo is now available on Xbox Live and PlayStation Network. The launch of Madden is just 13 days away, so here are five ways to use the demo to get yourself in game shape.
GET A HANG OF THE PRECISION MODIFIER
Madden NFL 25 allows players to Run Free and unlock the power and creativity of NFL ballcarriers. The precision modifier give players more than 30 moves at their disposal, including jump cuts, jab steps and more effective versions of the stiff arm and hurdle. The demo includes shifty backs like Ray Rice, as well as the power of Marshawn Lynch. Play with both to learn the nuances of one of Madden's biggest gameplay innovations ever.
MASTER THE READ OPTION
The Madden demo includes two of the NFL's most dynamic, young quarterbacks in the 49ers' Colin Kaepernick and Seahawks' Russell Wilson. Play with each quarterback to get a feel of the read option. With athletic quarterbacks like Kaepernick, Wilson, Robert Griffin III and Cam Newton in the mix, the read option promises to be a big part of many offensive game plans in Madden.
TOTAL CONTROL PASSING
Running the ball moves the chains, but the demo still allows the passing game to flourish with the likes of Aaron Rodgers and reigning Super Bowl MVP Joe Flacco. Once you play with these two quarterbacks in Play Now, try out the Total Control Passing drills in the Skills Trainer to help prime your aerial assault for August 27.
GET YOUR HIT STICK ON
With three of the best defenses in football represented in the demo, there is no shortage of hard hits via the all-new Force Impact System. Try out Heat-Seeker tackling with the likes of Patrick Willis and NaVorro Bowman and counter the new ball-carrier moves at the offense's disposal.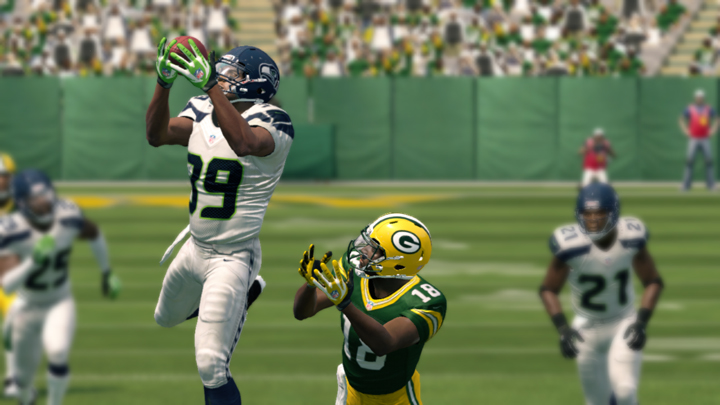 BALL HAWKS AND SEAHAWKS
Few secondaries are tougher than the Seattle Seahawks' quartet of Richard Sherman, Kam Chancellor, Earl Thomas and Brandon Browner. Take them for a test drive in the Ball Hawk drill in Skills Trainer.
Celebrate the 25th anniversary of Madden NFL by pre-ordering Madden NFL 25 today to receive exclusive Franchise Packs for your Connected Franchise and Madden Ultimate Team!