Posted August 27th at 12:00am.
EA SPORTS Game Changers are high-profile members of the EA SPORTS community who use their expert knowledge of our games to inform, entertain, and assist others.
Today's Game Changers blog comes to us from "ZFarls," who co-writes the official strategy guides for both Madden NFL and NCAA Football 14, and also runs MaddenTips.com. Follow him on Twitter at @MaddenBible.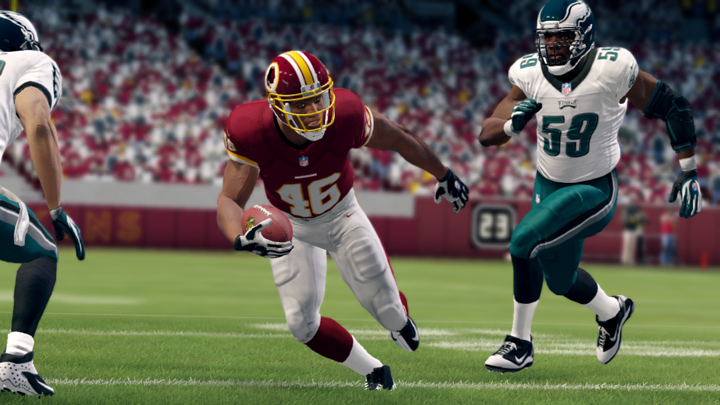 Pounding the ball in Madden NFL 25 is a great offensive strategy thanks to the all-new precision modifier. Not only will running the ball keep possession away from your opponent, but it will also help shorten the game, cut down on turnovers and most importantly, lead to more wins!
We here at Maddentips recommend going with a three-headed rushing attack. This will give you the ability to run the ball inside and keep the chains moving consistently.
Another important aspect of the three-headed ground strategy is the ability to run the ball outside. Once you find a defense committing too many defenders to the middle, call a play like a toss and get to the edge. This will be most effective with a back that boasts a speed (SPD) rating of 93 or greater.
Once you take the handoff from the QB, that's where all the fun starts. Backs can unleash an arsenal of more than 30 moves in Madden NFL 25. Make sure to start with normal moves and focus on using your blockers and cutting hard with the left stick.
If you are running with a speed back, make sure to try out combo moves with the right stick. This allows you to string together moves like a juke into a spin move that will leave defenders in the dust. For bigger power backs, the truck move into a spin will strike fear into the middle of the defense. By stringing together combo moves, you'll be able to keep the opposition off balance.
To save the best for last, we have the all-new precision moves that can be performed by holding down the precision modifier (LT on Xbox 360, L2 on PS3). These moves are limited to elite players with a 90+ rating in a specific category. For example, players with a 90+ stiff arm rating can use a precision stiff arm to really knock the defense back on its heels. Precision moves and the new Run Free system add a whole new element to Madden NFL 25.
Order today and celebrate the 25th anniversary of Madden NFL.