Madden NFL All-25: LB Derrick Brooks
Posted August 8th at 12:00am.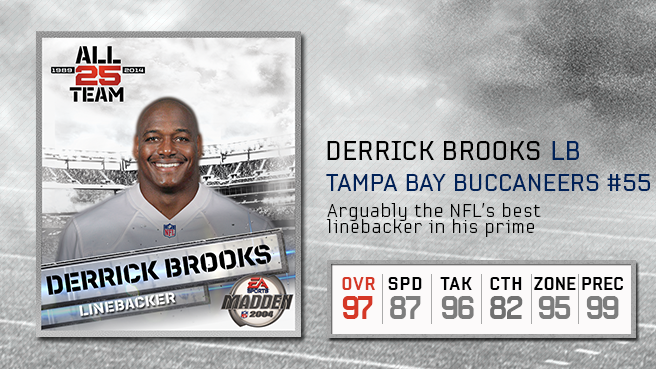 To commemorate the 25th anniversary of Madden NFL, we've compiled the best players in Madden history with help from our EA SPORTS GameChangers.Today's reveal is linebacker Derrick Brooks.
A member of the Tampa Bay Buccaneers Super Bowl XXXVII team, Derrick Brooks made 11 Pro Bowls and earned nine All-Pro nods over his career with the Bucs.
"Derrick Brooks was undersized and very athletic and in Madden NFL 2003, that translated to a lightening quick athlete who could cover just as well as rush quarterback." - Shaun Mason
Brooks took home NFL Defensive Player of the Year accolades in 2002, and he was a terror against both the passing and rushing game in Madden NFL 2003. In a lot of ways, Brooks was the anchor of that Bucs defense, which was one of the best in the history of football.
"At 6 ft, 235 lbs, Brooks made up for his lack of size with great skill in attacking the run or QB. He was one of the best linebackers in Madden NFL for years, and he wasn't a slouch in pass coverage either." - Brian Parker
Brooks and the dominant Bucs defense painted their masterpiece in Super Bowl XXXVII, forcing five Raiders turnovers and scoring three touchdowns, the game-sealer by Brooks himself.
"Derrick Brooks led the Bucs defense over the course of a 7 year period of dominance in Madden. Brooks was the anchor between Warren Sapp and Ronde Barber that cleaned up anything over middle. He had great coverage, but could also sneak in a rush and pressure the QB." - Simfballcritic
Looking for the rest of the All-25 roster? Check back over the next few weeks as more of the greatest football video game athletes are revealed.
Celebrate the 25th anniversary of Madden NFL by pre-ordering Madden NFL 25 today to receive exclusive Franchise Packs for your Connected Franchise and Madden Ultimate Team!