Get Madden NFL 25 on Xbox 360 or PS3, Save on Xbox One or PS4
Posted August 24th at 12:00am.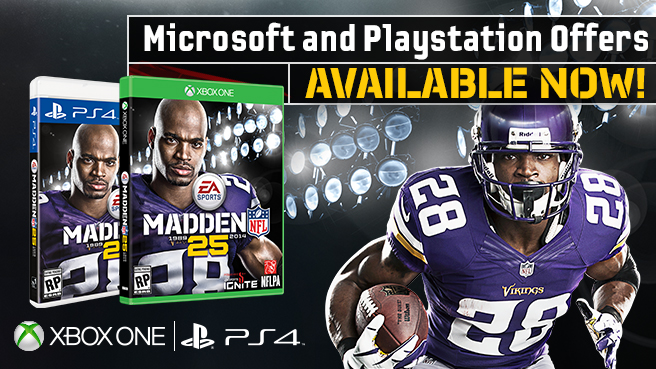 UPGRADE MADDEN NFL 25 FOR THE NEW CONSOLES THIS FALL.
XBOX 360 TO XBOX ONE AND PS3 TO PS4 OFFERS AVAILABLE NOW.
Coming to Xbox One November 19 and PlayStation 4 on November 12
Fans of Madden NFL 25 will have numerous opportunities when it comes to upgrading from the current-generation version of the game to next-gen. Whether your platform of choice is the Xbox One or the PlayStation 4, numerous retailers are offering opportunities to upgrade your experience when the new consoles launch this fall.
Along with these great retail offers, don't forget EA SPORTS wants to give you a nice head start on your friends when next-gen consoles launch. In the months between the launch of Madden NFL 25 on Xbox 360 and PlayStation 3 and next-gen consoles later this year, Madden players can transfer their Madden Ultimate Team content from Xbox 360 to Xbox One OR PlayStation 3 to PlayStation 4. Click here for more information.
Check out the links below for a full rundown of the current retail offers and stay tuned as more details get announced over the coming weeks.