Posted January 8th at 9:00am.
It's nearly Team of the Year time!
Based on the FIFPro World XI, the FUT Team of the Year features the highest-rated, and most coveted, player in-forms in FIFA Ultimate Team. The official Team of the Year players will be revealed Monday, January 12 and will only be available for one week.
To predict the Team of the Year, EA SPORTS have assembled a roundtable of pro players to have their say on who should make the World XI. Led by QPR defender and former England captain Rio Ferdinand, The Roundtable consists of Joey Barton (QPR), Tottenham right-back Kyle Walker, and the strongest player in FIFA, Adebayo Akinfenwa.
See who they picked as a panel, and who they picked for their personal TOTY squads:
The Roundtable's Team of the Year
Rio Ferdinand's Team of the Year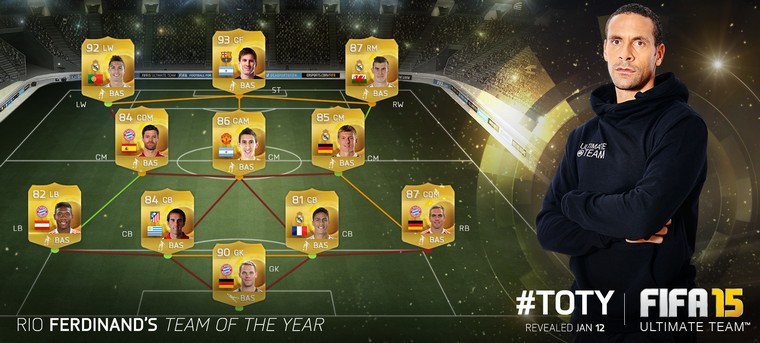 Joey Barton's Team of the Year
Kyle Walker's Team of the Year
Adebayo Akinfenwa's Team of the Year