Posted April 30th at 12:00am.
Each week FIFA Ultimate Team assembles the best players from international and club competition around the world and rewards them as part of our Team of the Week. Now, we celebrate the best players from club competition based on their performances during the course of the 2013-14 season.
This week's Team of the Season focuses on the Barclays Premier League.
With the season he has had, there was little doubt that Liverpool's Luis Suárez would be named the Professional Footballers' Association Players' Player of the Year for 2013-14. The 27 year-old Uruguayan has been an absolute beast on the pitch, accumulating 30 goals and 12 assists. Along with teammate Daniel Sturridge's 20 goals this season, the duo are key reasons the club has had such a memorable Premier League season.
Manchester City fans are spoiled when it comes to goal scorers. With so many incredible names, including Sergio Agüero, it can be a bit of a surprise that their defensive midfielder Yaya Touré is their leading scorer. In his first three seasons with the club, he amassed a total of 18 league goals. This season, the Côte d'Ivoire international has 19! Touré has become the quintessential player, one who can score goals and still make it difficult for the opposition to do the same. If other clubs haven't already been afraid of what he can do, they are now.
While Chelsea FC's goal production pales in comparison to the other clubs they are currently competing with, there is no question their best player has been midfielder Eden Hazard. The PFA Players' Young Player of the Year for 2013-14 has had an incredible second season with the club, leading them with 14 goals and seven assists. At only 23 years of age, Hazard's full potential has yet to be seen and Chelsea supporters cannot wait to see what comes next.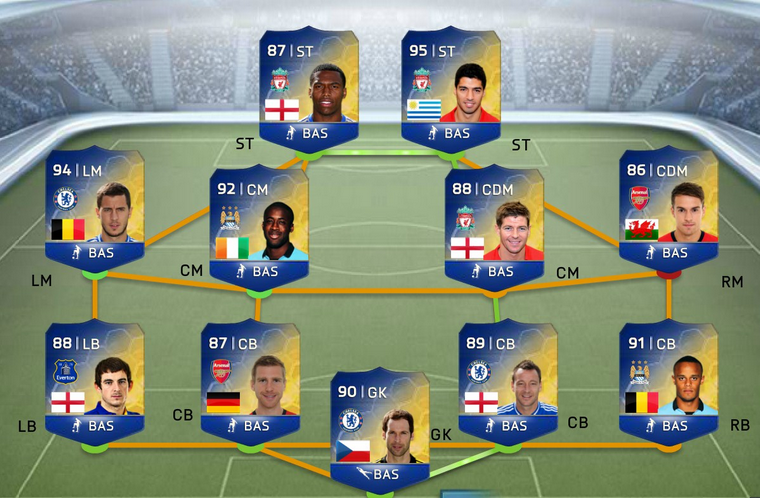 The name Adam Lallana is one that people around the world are starting to hear a lot of. The 25 year-old Southampton winger has had his best season in the top flight, with nine goals and six assists. His fine performance this season was rewarded with a recent call up to the England national side and is expected to be a large part of the side's push for glory this summer in Brazil.
Everton's defenders Leighton Baines and Séamus Coleman have had incredible seasons. In 30 league matches this season, the 29 year-old Baines has scored five goals and earned three assists. Meanwhile for Coleman, who recently moved into the Right back position, he scored six goals in 34 matches played. That total eclipsed his previous best of four, which he did back in 2010-11 while playing on the right of midfield.
Although he spent a large chunk of the 2013-14 season nursing a thigh injury, when Aaron Ramsey was on the pitch for Arsenal he was one of their best players. In 21 league matches, the Welsh international amassed nine goals and eight assists. Having recently signed a contract extension with the Gunners, supporters will be looking forward to what he does for them in the coming years.
Your Full Barclays Premier League Team of the Season:
Starting XI
GK: Petr Čech – Chelsea
LB: Leighton Baines – Everton
CB: Vincent Kompany – Manchester City
CB: Per Mertesacker – Arsenal
RB: Séamus Coleman – Everton
LM: Eden Hazard – Chelsea
CM: Yaya Touré – Manchester City
CM (CDM): Steven Gerrard – Liverpool
RM (CDM): Aaron Ramsey – Arsenal
ST: Luis Suárez – Liverpool
ST: Daniel Sturridge – Liverpool
Substitutes & Reserves
GK: David Marshall – Cardiff City
CB: Vincent Kompany - Manchester City
LB: Azpilicueta – Chelsea
CAM: Adam Lallana – Southampton
LM: David Silva – Manchester City
RW: Raheem Sterling – Liverpool
ST: Sergio Agüero – Manchester City
Check out all the other Team of the Season Squads here
The Team of the Week is available to play against each and every week in FIFA Ultimate Team. TOTW and TOTS items are available by chance when opening FIFA Ultimate Team Packs.
FIFA 14 is available now everywhere. Pick up your copy today.
Stay in the conversation on all things FIFA 14 by liking us on Facebook and following us on Twitter.