FIFA Ultimate Team - MLS All-Stars
Posted August 1st at 12:00am.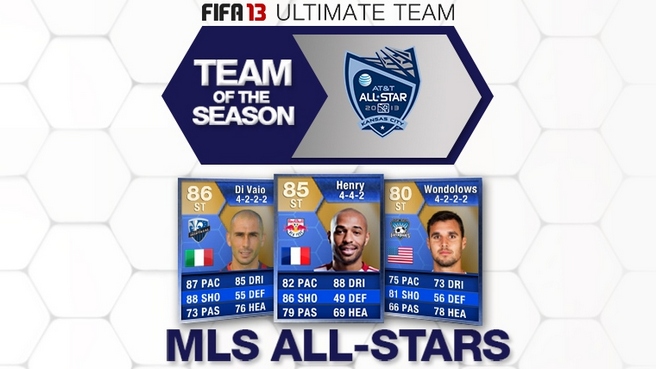 Each week, FIFA Ultimate Team assembles the best players from international and club competition from around the world, available to challenge in FIFA Ultimate Team. This special MLS All-Star Team highlights the 2013 MLS All-Star Game in Kansas City.
New York Red Bull's Thierry Henry is no stranger to success. He has a trophy case full of medals from both domestic and international play, and being on the same field as him is a dream for many players. Henry is the Red Bulls leading goal scorer so far this season, and with only two points separating first from fourth in the Eastern Conference, having a reliable offensive threat like Henry on the pitch is huge.
Marco Di Vaio's second season with the Montreal Impact has been incredible. He has scored nine goals in only 11 matches played, and his production is a large part of the reason why the club is poised to reach the post-season in only their second year.
Last year was incredible for San Jose's Chris Wondolowski, who tied the single season goals scored record with 27. In each of the last three seasons he has scored in double-digits; while 2013 has not been as productive, he has still been an integral part of the Earthquake's offense as they look to reach the playoffs.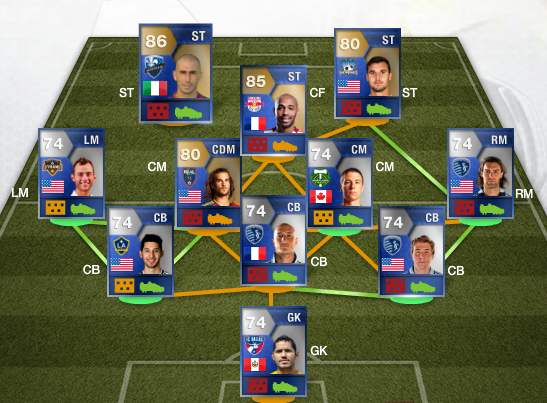 Starting XI (Playing 3-4-1-2)
GK: Raúl Fernández – FC Dallas
CB: Omar Gonzalez – LA Galaxy
CB: Aurélien Collin –Sporting Kansas City
LM: Brad Davis – Houston Dynamo
CM: Kyle Beckerman – Real Salt Lake
CM: Will Johnson – Portland Timbers
RM: Graham Zusi – Sporting Kansas City
CF: Thierry Henry – New York Red Bulls
ST: Marco Di Vaio – Montreal Impact
ST: Chris Wondolowski – San Jose Earthquakes
Substitutes & Reserves
GK: Nick Rimando – Real Salt Lake
LB: Corey Ashe – Houston Dynamo
RB: Tony Beltran – Real Salt Lake
CM: Patrice Bernier – Montreal Impact
CM: Tim Cahill – New York Red Bulls
CF: Landon Donovan – LA Galaxy
ST: Mike Magee – Chicago Fire
ST: Jack McInerney – Philadelphia Union
ST: Camilo Sanvezzo – Vancouver Whitecaps
ST: Robbie Keane – LA Galaxy
Check out the full squad here.
LEARN MORE ABOUT FIFA ULTIMATE TEAM »
SIGN IN TO FIFA ULTIMATE TEAM »
The Team of the Week is available to play against each and every week in FIFA Ultimate Team. TOTW items are available by chance when opening FIFA Ultimate Team Packs.