Posted March 17th at 12:00am.
Boasting the deepest, most explosive talent pool of any MMA organization on the planet, the UFC has built its reputation on showcasing the best and brightest athletes that mixed martial arts has to offer. This spring, EA SPORTS UFC will do the same.
Over the next few months we'll reveal the roster of EA SPORTS UFC, along with screenshots showcasing their next-gen likeness for the first time.
Check out the first batch of fighters, including EA SPORTS UFC Cover Athletes Jon "Bones" Jones and Alexander "The Mauler" Gustafsson.
Check out the second batch of fighters, including Cain Velasquez, Jose Aldo and Chuck Liddell
Check out the third batch of fighters, including Dan Henderson, Anthony Pettis and Ronda Rousey



Don't miss each batch of additional fighters, revealed regularly on this blog.
Make sure you never miss a beat with EA SPORTS UFC by Liking us on Facebook and Following us on Twitter.
Click image for additional resolutions
Michael Bisping
Nickname: The Count
Current Record: 25-5-0
From: Manchester, England
Fights Out Of: Manchester, England
Age: 35
Height: 6'2" (187 cm)
Weight: 185 lbs (84 kg)
Strengths: Striking, Cardio
The UK's most popular MMA star, winner of The Ultimate Fighter Season 3, and one of the most colorful personalities on the UFC's roster, Michael "The Count" Bisping has been a staple within the organization dating back to 2006. After dropping down from Light Heavyweight to find a permanent home in the UFC's Middleweight division, Bisping has proven himself to be a perennial Top 5 contender at 185lbs. Sidelined with an eye injury since 2013, The Count will be looking to string together some wins to get his name back into the title-contention picture.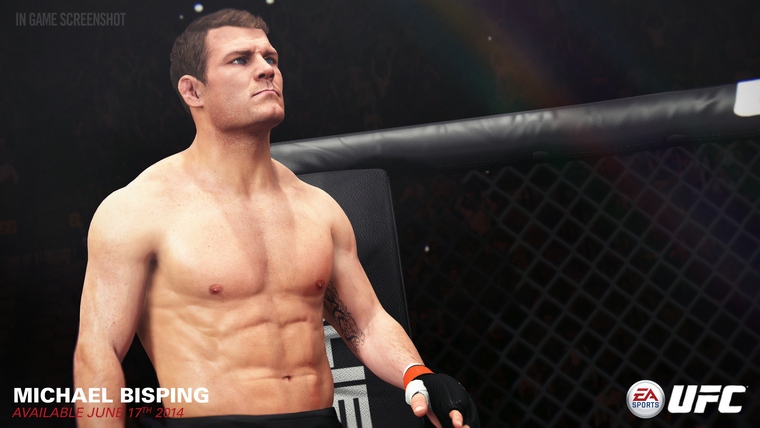 Click image for additional resolutions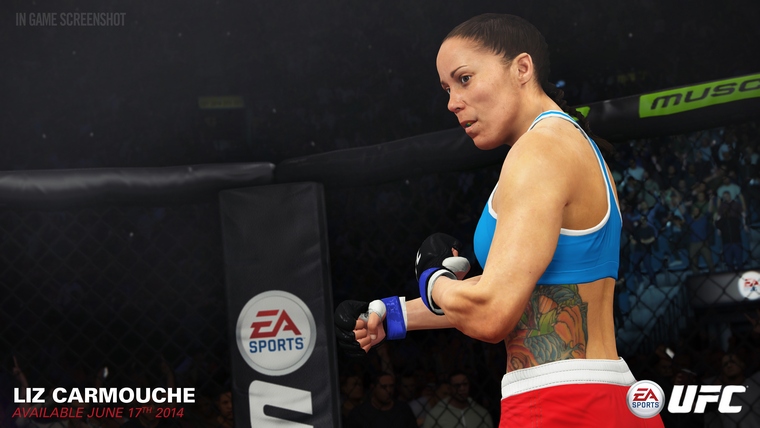 Click image for additional resolutions
Liz Carmouche
Nickname: Girl-Rilla
Current Record: 8-4-0
From: Lafeyette, LA, USA
Fights Out Of: San Diego, CA, USA
Age: 30
Height: 5'6" (167 cm)
Weight: 135 lbs (61 kg)
Strengths: Power, Takedowns, Ground and Pound
A former member of the US Marine Corps, Liz "Girl-Rilla" Carmouche holds the distinction of making history when she faced current champion Ronda Rousey in the first-ever women's bout to take place in the UFC. Winner of three of her last five bouts, Carmouche has been competing professionally since 2010 and will be looking to notch another win when she squares off against the No. 3 ranked Miesha Tate.
Click image for additional resolutions
Travis Browne
Nickname: Hapa
Current Record: 16-1-1
From: Honolulu, HI, USA
Fights Out Of: Albuquerque, NM, USA
Age: 31
Height: 6'7" (200 cm)
Weight: 255 lbs (115 kg)
Strengths: Striking, Well-Rounded Ground Game, Size
One of the fastest rising stars of the UFC's Heavyweight division, Travis "Hapa" Browne has shown consistent improvement every time he's stepped into the Octagon since first making this debut with the organization back in 2010. Since dropping his bout to Bigfoot Silva after tearing a hamstring mid-fight, Browne has been on an impressive march towards a title shot, stringing together three straight wins and three Knockout of the Night bonuses. Known for putting on entertaining fights and putting up big finishes, it's likely only a matter of time before UFC fans see Hapa challenging for the belt.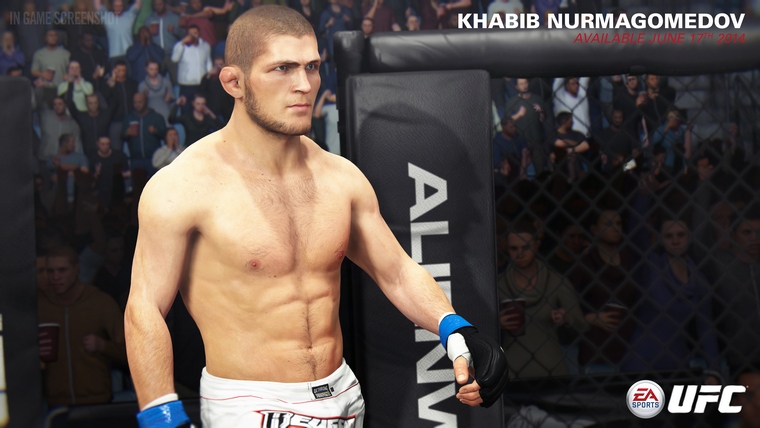 Click image for additional resolutions
Khabib Nurmagomedov
Nickname: The Eagle
Current Record: 21-0-0
From: Dagestan, Russia
Fights Out Of: Dagestan, Russia
Age: 25
Height: 5'10" (177 cm)
Weight: 155 lbs (70 kg)
Strengths: Wrestling
When you start your career with a 21-0-0 record, including going 5-0 upon entering the UFC, there's a good chance people are going to take notice. With an impressive record already under his belt at the age of 25, it's clear that Khabib "The Eagle" Nurmagomedov is quickly establishing himself as some of the toughest competition the UFC's Lightweight division has to offer. The Eagle boasts a well-rounded skillset that has helped him earn seven wins by KO and another seven by submission, while also logging finishes in 10 of his last 13 wins.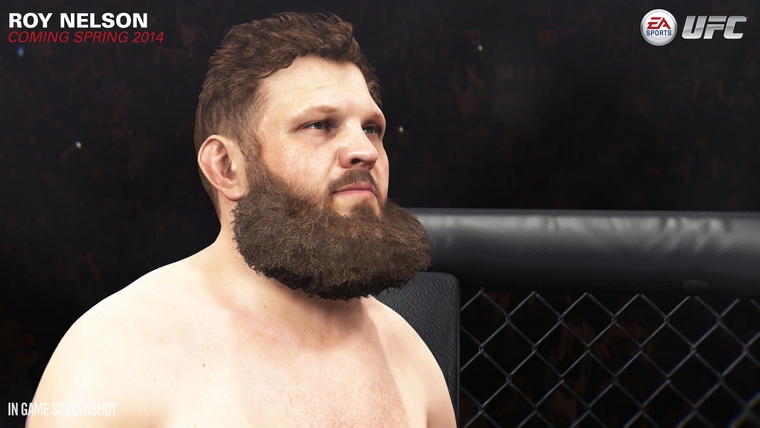 Click image for additional resolutions
Roy Nelson
Nickname: Big Country
Current Record: 20-9-0
From: Las Vegas, NV, USA
Fights Out Of: Las Vegas, NV, USA
Age: 37
Height: 6'0" (182 cm)
Weight: 263 lbs (119kg)
Strengths: Grappling, World-Class Experience, KO Power
One of the hardest hitters in the UFC's Heavyweight division, Roy "Big Country" Nelson has proven time and again that he packs enough power to end any fight with a single punch. Winner of The Ultimate Fighter Season 10, Nelson quickly established himself as a fan-favorite, earning a second-round TKO victory over street-fighter Kimbo Slice in his first fight of the show before going on to win the title. Despite being a black belt in Jiu-Jitsu and a long time student of Renzo Gracie, Big Country has primarily stuck to his standup game during his time in the UFC, earning all his wins in the organization by way of TKO/KO.
Click image for additional resolutions
Glover Teixeira
Nickname: NA
Current Record: 22-2-0
From: Sobralia, Minas Gerais, Brazil
Fights Out Of: Rio de Janeiro, Brazil
Age: 34
Height: 6'2" (187 cm)
Weight: 205 lbs (93 kg)
Strengths: Striking, Jiu-Jitsu
Glover Teixeira has consistently been a fighter on the rise since kicking off his professional MMA career in 2002. After going 2-2-0 in his first four bouts, Teixeira has been unstoppable, assembling an amazing 20-fight win streak that ranks among the best in the sport today with his last loss coming to Ed Herman back in 2005. Possessing a well-rounded game that allows him to control all aspects of a fight, Teixeira has earned 13 of his career wins by TKO/KO with another six coming by way of submission. His five consecutive wins in the UFC have earned him a shot at the Jon Jones and the Light Heavyweight title at UFC 172.
Click image for additional resolutions
Mark Munoz
Nickname: The Filipino Wreaking Machine
Current Record: 13-4-0
From: Vallejo, CA, USA
Fights Out Of: Lake Forest, CA, USA
Age: 36
Height: 6'0" (182 cm)
Weight: 185 lbs (84 kg)
Strengths: Wrestling, Muay Thai, Former NCAA Wrestling Champion
Despite getting a late start in his MMA career and only taking his first pro bout in 2007, Mark Munoz wasted little time hitting his stride, putting together an 8-2-0 record in his first 10 fights. Making his Middleweight debut in 2009, Munoz has squared off against some of the division's top athletes including Demian Maia, Lyoto Machida and current title-holder Chris Weidman. A standout wrestler possessing excellent striking, The Filipino Wrecking Machine will look to get back into the win column when he faces Gegard Mousasi at the end of May.
---
Catch up on all the fighters:



Pre order EA SPORTS UFC here. Like us on Facebook and Follow us on Twitter to stay in the conversation on all things EA SPORTS UFC.