Posted May 22nd at 12:00am.
EA SPORTS 2014 FIFA World Cup Brazil is now available in stores everywhere. With the world's largest sporting event kicking off on June 12, now is the best time to begin your FIFA World Cup preparations and help lead your country to glory on PlayStation 3 or Xbox 360.
But if you are still uncertain, here are seven reasons why it's not too early to get into the World Cup spirit by playing EA SPORTS 2014 FIFA World Cup.
Cater your 2014 FIFA World Cup experience any way you want. Take control of the United States, win their group and lead them to World Cup glory. Or, start your journey from the qualifying phase and change the course of history. Perhaps, you'd rather your FIFA World Cup feature Zlatan Ibrahimovic and the Sweden national team. Then swap out one of the current 32 and put them into the mix.
2. More Ways to play
It's not just about the standard 2014 FIFA World Cup. Replay some of the best matches from the last two years of qualifying or once the tournament starts, experience the Story of the Finals and relive the day's events. Ride the Road to Rio de Janeiro online and defeat your opposition in all 12 FIFA World Cup locales, or take on more than 50 new and classic Skill games to improve your FIFA abilities.
The FIFA World Cup is a huge spectacle around the world and EA SPORTS 2014 FIFA World Cup is no different. We've included 203 FIFA-sanctioned nations, 7,469 licensed FIFPro players, and 19 officially licensed managers. All 12 2014 FIFA World Cup stadiums are included with fantastic fan displays inside and outside of the venues. Additionally, we will take you to more than 15 different locations around the world as you see supporters get riled up or dejected while their country tries to make its way through the tournament.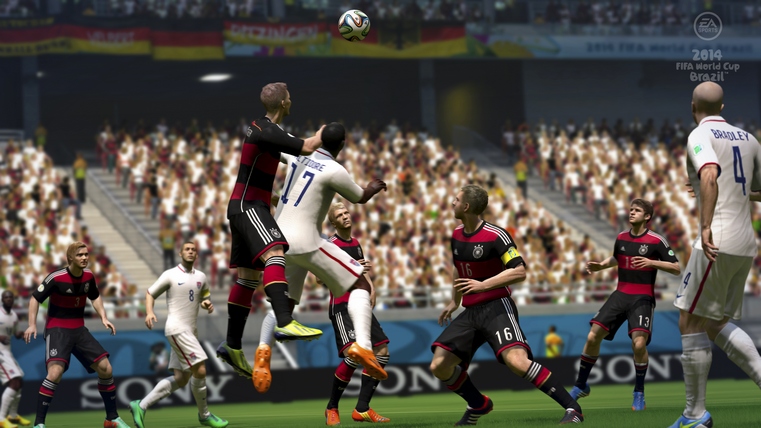 EA SPORTS 2014 FIFA World Cup sees a number of key gameplay changes that make for a more immersive experience. Direct your teammates to crowd the far post during corners or free kicks, have your Keeper distract a penalty taker into missing their shot, or see how adidas' Brazuca moves realistically on the virtual pitch.
5. Tune into EA SPORTS Talk Radio
Have your 2014 FIFA World Cup journey analyzed by both Michael Davies and Roger Bennett of the Men in Blazers, or Andy Goldstien of talkSports and Ian Darke of ESPN. EA SPORTS Talk Radio is catered to you with specific dialog for all 203 nations. They'll hype you up before your first match or talk you down after that tough loss. Win or lose, they'll be there the entire way giving their insight on everything happening in Brazil.
Featuring "We Are One (Ole Ola)," the official 2014 FIFA World Cup Song and many up-and-coming artists from around the world, the EA SPORTS 2014 FIFA World Cup Brazil soundtrack has it all. With 34 tracks included, you are bound to find something to suit your eardrums and put you in the Brazilian spirit.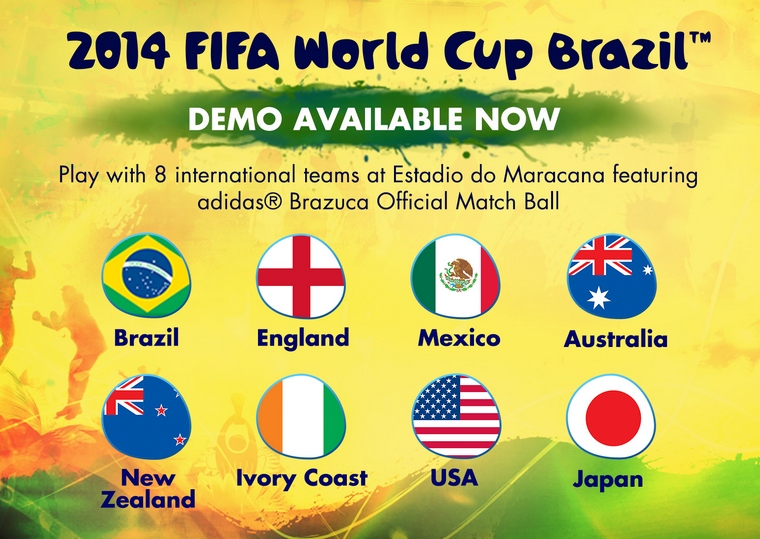 Still not sure if you're ready to start your 2014 FIFA World Cup early? Download the demo and get a taste. The demo features eight nations including host Brazil, as well as the Estadio do Maracana in Rio de Janeiro and Arena de Amazônia in Manaus. Play an entire match to see the atmosphere come to life and experience all the improvements that have been made. Finish in a draw? Then go into penalty kicks and see how the new goalkeeper mechanics can put a striker off their game.
The FIFA World Cup is a truly memorable event and what better way to get into the spirit than getting your hands on EA SPORTS 2014 FIFA World Cup Brazil. The game is in stores now, only on PlayStation 3 and Xbox 360. Buy your copy today.
Stay in the conversation on all things FIFA by liking us on Facebook and following us on Twitter.