Posted May 7th at 12:00am.
Throughout the 2012-13 season, EA SPORTS ambassador and Manchester City goalkeeper Joe Hart has been competing in the 'Joe Hart's EA SPORTS Player Performance Index League' .
Hart has finished the final month of the competition in the top half of the places, in 1,206th position with a total of 1,487 points.
EA SPORTS, who are the Official Sports Technology Partner of The Premier League, set up a Fantasy Premier League Mini League for the 2012-13 season to give football fans the chance to pit their wits against England's No.1 goalkeeper.
A total of 3,193 players took up the challenge to take part.
The overall winner of the league was Serkan Kaygunwith his team Catastrophe FC, earning a total of 1,844 points from his team line-up.*
As part of the EA SPORTS partnership with The Premier League, The EA SPORTS Player Performance Index has an effect on your Fantasy Premier League team.
The EA SPORTS Player Performance Index uses a comprehensive range of statistics to provide objective analysis about which players are performing the best and why. Coming up to the end of the season, you can check out how the Barclays Premier League players have performed so far by visiting The EA SPORTS Player Performance Index.
In the EA SPORTS Player Performance Index, Joe Hart's current position is summarised below:
Joe Hart is currently ranked in 25th place overall
Hart is the second highest ranked goalkeeper, four places behind Chelsea's Peter Cech
Hart has made a total of 109 saves in his 35 Barclays Premier League appearances so far this season

Joe's top performers overall for the Fantasy Premier League this season have been:
Swansea City's Miguel Michu – 178 points
Southampton's Rickie Lambert – 174 points

In Fantasy League, the three best performing players in each match according to the EA SPORTS Player Performance Index receive additional bonus points. Three points will be awarded to the highest scoring player, two to the second best and one to the third.
Each month throughout the season, EA SPORTS has randomly selected Fantasy Premier League players who successfully finished higher than Joe Hart in 'Joe Hart's EA SPORTS Player Performance Index League' to win prizes courtesy of EA SPORTS. The final overall winner will be awarded a signed Joe Hart shirt in the month of May.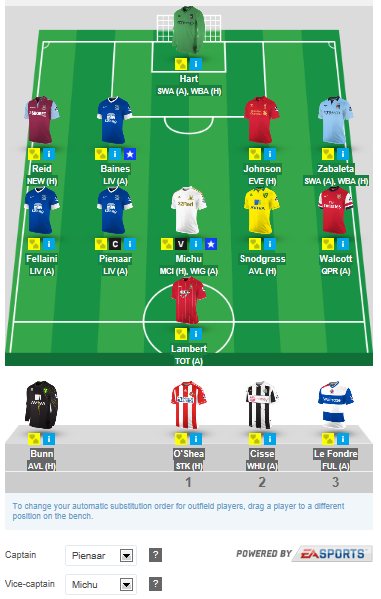 Hart's team (4-5-1); Joe Hart (Man City) – Leighton Baines (Everton), Glen Johnson (Liverpool), Pablo Zabaleta (Man City), Winston Reid (West Ham) – Steven Pienaar (Everton), Marouane Fellaini (Everton), Miguel Michu (Swansea), Robert Snodgrass (Norwich City), Theo Walcott (Arsenal)– Rickie Lambert (Southampton),
Substitutes: Mark Bunn (Norwich City), Adam Le Fondre (Reading), Papiss Cisse (Newcastle United), John O'Shea (Sunderland),
The Joe Hart's EA SPORTS Player Performance Index League has now ended for this season; however the official Fantasy Premier League will run to the end of the season, and will be re-launching again for the 2013-14 season. It is free to register, click here for more details.
You can find out more about the EA SPORTS PPI here.
*Joe Hart's EA SPORTS Player Performance Index League competition closed on 3rd May 2013