Posted August 2nd at 12:00am.
Like most football fans, EA SPORTS FIFA series is a real must-have, no matter what your choice of gaming console.
It's perfect to chuck on when your mates come around, as friendships get put to one side to let the rivalries begin. Bragging rights are suddenly up for grabs, competitive juices flow and the ensuing banter is always good value.
Personally, I'm a bit of a manager mode buff; taking a randomly picked lowly league side and trying to progress the all the way to the top.
I'm not even that much of a gamer, but I still buy FIFA every year, because you know that with each new edition, the game becomes more and more realistic. After seeing (and playing!) FIFA 14 for myself today, let me assure you that the latest installment is set to be the best one yet.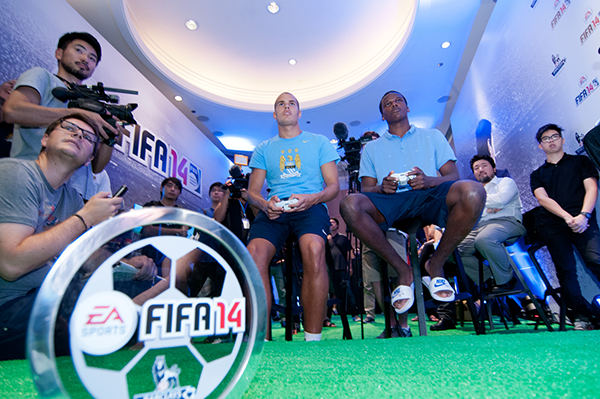 Rodwell and Boyata play off

FIFA14 producer Kaz Makita told us that they were trying to make the game more rewarding and fun, with a big emphasis on providing more "wow moments". I'm sure that fans of the game won't be disappointed. Note: we only got to play an Alpha build version, which was roughly 70% complete, but still very impressive.
Unfortunately, I didn't have a lot of luck in the 'Community Challenge' tournament, competing against players from Dubai, Hong Kong, China and Japan. I represented Australia, but I'm afraid that carrying the weight of a nation my shoulders really got to me, and the pressure told in the end.
The atmosphere was very tense, and the eventual winner, Takahide Hazome, actually represented Japan at the 2012 FIFA Interactive World Cup and has an agent who manages his FIFA requirements. AN AGENT! What chance did I have? I finished the tournament not only winless, but goalless, disgracing the Australian sporting public and for that, I apologise.
Luckily, all was forgotten when the 'Pro Player' tournament rolled around. Players from Manchester City, Tottenham Hotspur and South China tried their hand at FIFA14, with some finding it easier than others.
Jake Livermore, Zeki Fryers, Tom Carroll and new signing Nacer Chadli represented the Spurs, whilst Dedryck Boyata, Jack Rodwell, Joleon Lescott and Sergio Aguero were present from the blue side of Manchester. Lescott and Aguero were both knocked out early, as were the Spurs players, leaving Rodwell and Boyata to progress to the final, which Boyata eventually won.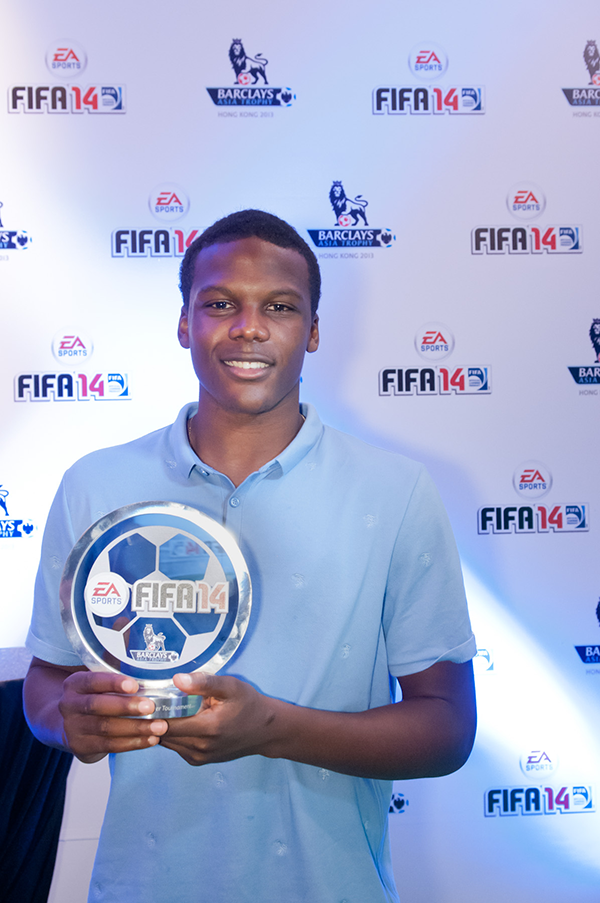 Boyata wins. All the brags are belong to him

It was great to see the players in a relaxed environment away from football, and whilst they make have shared a laugh or two, they certainly took their FIFA seriously.
I was lucky enough to have a chat to Joleon Lescott, who admitted how keen he was to try the new edition of the game. A lot of banter and bravado around the club is dictated by everyone's FIFA abilities, but it looks like the young Belgian Boyata has bragging rights for a while.
Being able to meet and chat to these players was such a dream come true, and especially seeing how excited they were to play the new FIFA. It only goes to show that, deep down, they're just football fans like the rest of us and to all you FIFA fans out there, let me assure you that the upcoming FIFA14 is set to be the best and most realistic release yet.
Stay tuned for the final part of this series.
Read Part 1.
| | |
| --- | --- |
| | Nick Leggatt is a musician and sports fanatic hailing from Melbourne, Victoria. A real football enthusiast, he loves an underdog and is a massive Manchester City and Melbourne Heart supporter, as well as a budding central midfielder in the lowly Victorian leagues. You can keep up-to-date with Nick's witty insights and over-filtered photos by following @nicholasj55 on Twitter and Instagram. His views are not a reflection of Electronic Arts. |